Build UK chief said changes to NHS app and social distancing on sites had brought down numbers
There are signs that the impact of the so-called 'pingdemic' on the industry is easing with the number of people being told to self-isolate by the NHS covid-19 app nearly halving over the past week.
New official figures show that just under 400,000 people were 'pinged' by the app over the past seven days compared to 700,000 people the week before, a drop of 43%.
Build UK chief executive Suzannah Nichol said the pressure on firms from staff not being able to attend work after being pinged seemed to have receded.
She told Building: "It no longer dominates every conversation I have with members which I take as a sign that the pressure has eased a little."
It follows the government tweaking how the app works so that it contacts fewer people advising them to self-isolate.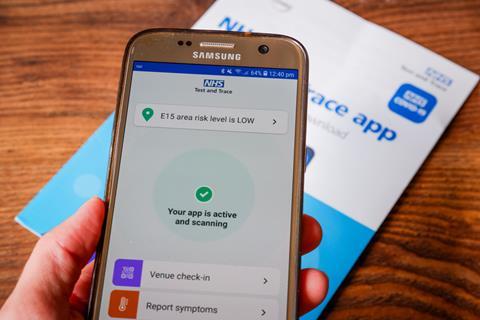 The app now scans for covid positive cases that the user has come into contact with over the previous two days rather than five.
Nichol said that the drop in absences was likely a combination of the changes to the app and strict social distancing and testing on sites.
But she warned that firms would still need to deal with absences for at least another week until rules on self isolating are relaxed on 16 August.
The Construction Leadership Council urged the government to bring forward the date last month.
It said that absences were putting "very significant pressure" on the construction sector with some sites having to wind down operations and self-isolations even risking the viability of some firms.
Builders merchants Travis Perkins and Marshalls also called on the government to rethink the rules with the chief executive of Marshalls warning that high levels of absences were "compromising our ability to operate".
Travis Perkins had earlier admitted that deliveries of some construction products were facing delays because of staff being pinged.
But Nichol, who sits on the CLC's covid taskforce, said that the government had "not really moved" on accelerating the date for relaxing the rules and firms were now "resigned" to it not changing.
She added: "After everything we have been through it is tough but just one more thing to have to deal with."
Ministers have introduced a scheme giving exemption to individuals from self-isolating but only those working in essential services where loss of life could occur if they were absent.