Round-up of responses to government consultation on proposed national policy changes
Michael Gove's proposals to water down housing targets will lead to a significant drop in supply of new homes, according to a raft of industry responses to a consultation on proposed planning reforms.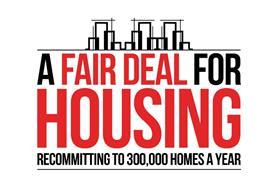 Bodies representing both developers and planners said the proposals were likely to see a drop off in the number of homes planned for by local authorities, and were particularly critical of government plans to make it much harder for councils to review whether green belt sites should be used for homes.
The responses follow research commissioned by the Home Builders Federation (HBF) and the Land Promoters and Developers Federation (LPDF) released last week indicating that the reforms could reduce housebuilding by 77,000 homes per year if introduced as proposed.
However, conservation groups and local authorities have responded in support of the government's plans, which scrap sanctions for underperforming authorities on housing delivery and look to give councils more leeway to ignore centrally-calculated housing need figures when drawing up their local plans.
The Home Builders Federation said: "Despite a stated commitment [by the government] to delivering 300,000 homes a year 'by the mid-2020s', of all the new provisions being consulted upon only three […] could be said to be in any way supportive of new development.
"Every other provision will serve to make the delivery of 300,000 homes a year less likely".
The British Property Federation added that the changes to national planning policy 'actively work against' the government's stated ambition of increasing housing delivery and driving levelling up, and said specifically that the proposal to drop the requirement for local authorities with up-to-date plans to demonstrate a five year supply of developable land "will mean there is less urgency in bringing forward residential development".
Melanie Leech, Chief Executive, British Property Federation said: "We fully support the government's aim to harness the planning system to increase housing delivery and drive levelling up but the proposed reforms will only create more delays and obstacles to development at a time when market conditions are already very challenging.
The Chartered Institute of Housing said in its response that the "cumulative effect" of the proposals would be a "watering down of the fundamental idea that local authorities should be meeting housing needs."
It added: "Given the housing emergency the country faces this is the wrong direction of travel and we would urge government to think again about the impact of these proposals."
>>Warning of 'complete collapse' in local plan-making after Gove reform announcement
>>Starmer pledges planning reform as industry predicts collapse in housebuilding
>>Gove's retreat into nimbyism spells political trouble for the Tories
Some planning groups also raised concerns about the consultation proposals, which propose a series of opt outs which will give local authorities justifications for not meeting housing need numbers. The Royal Town Planning Institute, which represents qualified planners working in both the public and private sector, said the changes will "further reduce the amount of homes and infrastructure delivered across England" by "fundamentally" upsetting the checks and balances underpinning the planning system.
Victoria Hills, chief executive of the Royal Town Planning Institute, said: "We can be in no doubt that the changes to national planning policy proposed in this consultation would profoundly impact plans and projects for housing, infrastructure, and amenities that communities and businesses need to thrive."
The Planning Officers Society (POS), which was supportive of many of the government's plans, including those to remove the need to show a five year land supply, said the Green Belt plan would have "significant unintended consequences in terms of housing delivery" and "put additional pressure on non-Green Belt authorities, creating tensions in communities", adding that "likely the government will fail to meet its housing target".
The body was also very critical of the government's proposal to allow local authorities to use local "character" as a justification for opposing housing numbers that would require an increase in housing density.
However, conservation groups were supportive of the government's moves to give councils more power to oppose housing schemes. Countryside charity the CPRE said in its response: "We agree that local authorities should not have to demonstrate a deliverable five-year housing supply. Our research has demonstrated that it has allowed developers, on too many occasions, to bypass local democracy and gain planning permission for large housing developments on greenfield land."
The body nevertheless argued that the government's reforms didn't go far enough in terms of putting local people in charge of planning.
The consultation closed last Thursday.
A Fair Deal for Housing campaign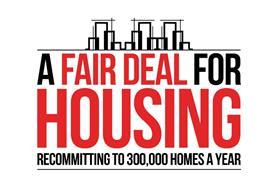 Housing Today believes the government should not back away from its manifesto pledge of building 300,000 new homes a year by the middle of the decade. We badly need more homes and a lack of supply is a major factor in creating problems of affordability for both buyers and renters.
Over the next few months, Housing Today will be exploring potential solutions to help us ramp up housebuilding to 300,000. These are likely to, include different ways of working, funding asks of government and policy ideas that could boost housebuilding.
We want to hear from you: what do you think can make a difference at a policy level?
What can the industry do better?

We believe that, with the right commitments from ministers and the industry, it is possible to build more homes and help the government to meet its objectives to "build beautiful", improve quality and safety, boost home ownership and level up the UK.
Click here to find out more about the campaign
To contribute ideas to our A Fair Deal for Housing Ideas Zone database, click here.
A Fair Deal for Housing is part of the Building the Future Commission.