Speakers include Urban Splash's Tom Bloxham and EDF's Alan Cumming - view the video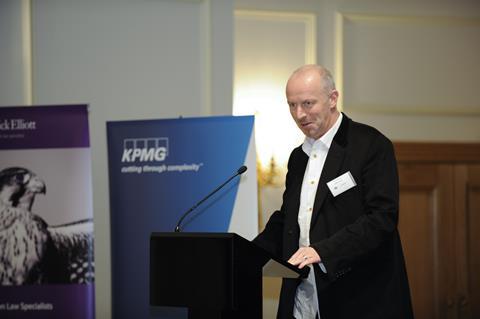 Over 50 construction bosses gathered last Thursday at the Savoy Hotel for Building's second CEO summit to hear what the industry's clients are looking for in an increasingly tough market.
Speakers including Urban Splash founder Tom Bloxham and EDF energy head of procurement Alan Cumming gave an overview of how they see the industry developing in 2012 in both the property development and energy and nuclear sectors, and what they expect from supply chains going forward.
Simon Tolson, senior partner at law firm Fenwick Elliott, and an expert in construction law, then gave a more general overview of the market as we approach the end of the year from a legal perspective.
Cumming kicked off the proceedings after breakfast saying that clients and supply chain needed to "work more closely together to create an industry for the future."
He said: "There are two key issues at the moment regarding the energy sector – quality and productivity. We are currently not as productive as other construction industries around the world and we can do better. We can show that British people are capable of being world class."
Bloxham, up next, gave his thoughts on the residential market. He pointed out that at least some of the issues were being driven by "nervousness" among potential buyers. "There is a real reluctance to buy at the moment," he said "and to make those big ticket decisions." He added that, despite this, there remains a lot of opportunity in the market, particularly in London. "We need to get people buying. This gets the whole economy moving and actually, there are more opportunities out there at the moment than I have seen in the 25 years since I started working in this sector."
Fenwick Elliott's Tolson finished with some predictions for 2012 including an increase in companies struggling to get paid, the death of PFI, pre Olympic highs and post Olympic blues, international growth and a return for many to survival mode.
Thanks to our sponsors for the event, KPMG, Aon and Fenwick Elliott.
In association with
Aon is the leading global provider of risk management, insurance and reinsurance brokerage, and human resource consulting and outsourcing. The Design & Project Professionals Practice forms part of Aon Risk Solutions' Professional Services practice and is committed to servicing architects, engineers, surveyors, project/construction managers and other design professionals, including design and build contractors.


Fenwick Elliott is the largest specialist construction law firm in the UK working with clients around the world in the building, engineering and energy sectors. Fenwick Elliott provide a range of legal services on every aspect of the construction process including procurement strategy; contract documentation and negotiation; risk management and dispute avoidance; project support; and dispute resolution.


KPMG is a global network of professional firms providing Audit, Tax and Advisory services. KPMG have 138,000 outstanding professionals working together to deliver value in 150 countries worldwide. KPMG's Infrastructure, Building & Construction sector provides an extensive range of industry focussed services for private and public sector clients covering all aspects of financial advice and assurance.