Nick Walkey's shock decision to stand down seen as a blow to reform of housing sector
Figures in the housebuilding and wider property industries have reacted with dismay to the shock news of the departure of Homes England chief executive Nick Walkley yesterday.
Walkey, who oversaw the transition of the agency from its previous guise as the Homes and Communities Agency in 2018, has been credited with transforming its performance since joining as chief executive in March 2017.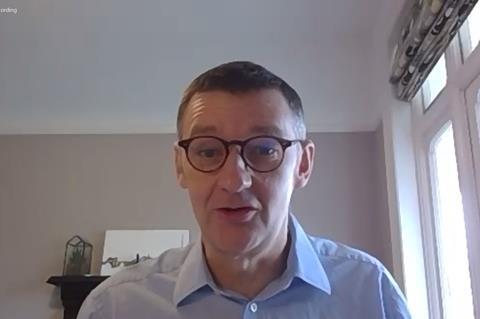 A spokesperson for Homes England said yesterday that Walkey (pictured) left for personal reasons, and Building's sister title Housing Today understands it was not the result of a falling out or disagreement with the body's new chair, Peter Freeman.
Walkley made it clear on Twitter that his departure was not related to having secured a new job elsewhere. "I am not sure what is next for me but I hope it has as much purpose and positivity as this role," he said, adding that there was still a "huge amount" for Homes England to do.
The agency administers the government's affordable housebuilding programme outside of London and the Help to Buy scheme, as well as overseeing a number of initiatives to support small builders, and innovation in construction, sustainability and design of housing.
Tributes to Walkey's tenure as boss of Homes England came from institutions including the British Property Federation, the Royal Town Planning Institute (RTPI) and the Home Builders Federation, as well as from housing associations and consultants working in the sector.
Paul Hackett, chief executive of housing association Optivo, said on Twitter that Walkey had made a "massive difference" and would be missed.
Paul Smith, the former housing lead at Bristol council and now chief executive of Elim Housing, said in response to Walkley's tweets: "Nick you've provided great leadership, your moving on will be a huge loss to the sector."
Under his tenure, major housing associations have benefitted from longer-term and more flexible funding packages to build affordable homes, on the proviso that numbers delivered are increased.
Marc Vlessing, chair of London specialist residential developer Pocket, said: "Nick more than sorry to hear about this. These are such difficult jobs and your energy and positive leadership was making the difference."
RTPI chief executive Victoria Hills said: "You will be missed but well done for all your leadership and vision over the years."
Walkley has been praised for his charismatic leadership of the agency and ability to communicate his drive to make housebuilding more ethical and sustainable, while funding a string of ambitious deals to support innovation in the housing sector.
These included a £30m funding package for modular housebuilder Ilke, a major part in the £55m deal to bring investment from Japanese modular housebuilder Sekisui in to Urban Splash's offsite housing business, and money for new settlements being promoted by Urban & Civic.
He hit the headlines in 2019 for setting out Homes England's approach to ethical procurement in characteristically forthright style, declaring that the agency "won't work with tossers" and also admitted that the agency had not done enough to narrow the gender pay gap. Last November he accused the housebuilding sector of having been too slow to embrace modern methods of construction.
A Homes England insider said yesterday that the decision had come as a shock to staff. He said: "We would lie down in the traffic for Nick, he has been an absolute inspiration. We just trust he has made this decision in the best interests of the agency."
Chris Brown, chief executive of regeneration developer Igloo, said he was a charismatic leader who was leaving with a high reputation. "He is a change agent – I suspect he feels he has done what he wants to do and has decided it is time to move on."
In a string of tweets, Walkley professed his pride in the work of the agency yesterday, referencing partners including Urban Splash and Sekisui House as well as claiming credit for "nudging housebuilders to embrace better design and sustainability". He said: "Whoever succeeds me has the privilege of working with a wildly diverse group of hugely talented colleagues and equally ambitious partners.
"I am not sure what is next for me but I hope it has as much purpose and positivity as this role. There is still a huge amount for @HomesEngland to do and I'll end as I began – certain that 'critics build nothing'."