Build UK, CECA and CPA latest trade bodies to call for reform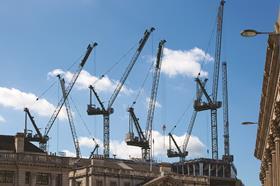 Build UK, the Civil Engineering Contractors Association (CECA), and the Construction Products Association (CPA) are the latest trade bodies to get behind the call for a government ban on retentions in the construction industry.
In a joint response to the government consultation on the Practice of Cash Retention under Construction Contracts, the groups said they were problematic for the entire supply chain and had a significant impact upon cash flow and working capital for all parties.
The groups said: "The industry is fully committed to achieving zero cash retention and we believe that government must introduce legislation to ensure there is zero cash retention within the industry by no later than 2025."
The issue of retentions was thrown into the spotlight last week with Carillion going into liquidation, leaving an estimated 30,000 creditors, which are predominately SME businesses. According Build UK, CECA and CPA, it is also estimated that Carillion held £800m of retention payments when it collapsed.
Build UK chief executive Suzannah Nichol said: "The collapse of Carillion has reinforced the need for significant change in the construction industry, and we urge government to take legislative action to abolish cash retention. The industry is ready to support this by implementing a phased approach to zero retention, in partnership with government."
The trade bodies said a ban on retentions would increase working capital within the supply chain, increase collaboration and transparency in the construction industry and provide an incentive to improve quality of completed works on as well as increased assurance that any defects that did occur would be rectified appropriately.
Alasdair Reisner, chief executive at CECA, said: "The use of improperly managed retentions by employers often has substantial impacts on SMEs further down the supply chain as these companies operate within extremely tight margins and reserves. Carillion's collapse has highlighted once and for all how change is needed in our industry.
"As a first step, we call on government to legislate to abolish cash retentions and work with industry to implement an agreed route map based approach to achieve this ambition."
The call comes a fortnight after Tory MP Peter Aldous introduced a private members proposing to protect retentions by holding all funds in government-approved deposit scheme. The bill will have its second reading on 27 April.
While Build UK and CECA members favoured the abolishment of cash retentions, they said if government chose to instead pursue a retention deposit scheme, they would work with government to develop a scheme to provide security of retentions.