Government to clarify key spending decisions within weeks, as Osborne spares capital expenditure from fresh cuts
The government is to clarify construction spending decisions on housing and education, which were deferred under this week's Budget, within weeks, Building understands.
The fate of Homes and Communities Agency's (HCA) Kickstart and local authority housing programmes will be made public after next week, and news of the £55bn Building Schools for the Future (BSF) programme is likely to follow.
This week chancellor George Osborne effectively put all other capital spending decisions in doubt until the Comprehensive Spending Review in October. However, he also committed the government to not extending Labour's planned halving of net capital spend between this year and 2015-16.
The other main features were:
VAT up from 17.5% to 20% from 4 January 2011
Corporation tax reduced from 28% to 24% over four years
Capital gains tax up to 28% for higher-rate taxpayers
Formation of a green investment bank confirmed
Regional growth fund created to help fund capital projects.
A source close to the talks on HCA funding said the government would clarify its position on Monday, and that although a final decision was yet to be made, indications were that "a bit more than half" of the money for stalled programmes has been found. The HCA put all spending that wasn't legally committed on hold in May after the incoming government stopped £610m of promised funding from other departments. The agency had expected the future of the programmes, which include £214m of Kickstart spending on stalled private housing schemes, to be clarified at the Budget.
The funding will not be enough to prevent the scaling back of the agency. It confirmed that chief executive Sir Bob Kerslake told staff last week to expect cuts in capital budgets from next year of up to a half, and cuts to the operating budget - staff and overheads - of up to a third.
Grant Shapps, the housing minister, told Building that the HCA would lose all non-core functions, such as administering the Thames Gateway and housing growth funds. He said: "The HCA will lose anything to do with policy or training, or that can be administered locally."
Meanwhile an announcement is expected within weeks on BSF. It is understood this was put back because there is some debate over which schemes will continue. It is expected that most that have reached preferred bidder stage will go ahead in their current form, although sources have warned of "grey areas".
The announcement is expected formally to freeze work on all schemes that have not reached its cut-off point and the government will then reveal the terms of a review of the remainder of the schools renewal programme.
Osborne said he had decided to protect capital spend overall in order for the country to "continue to compete in the modern world". He said: "The absolute priority will be projects with a significant economic return to the country."
This came after last week's announcement of cuts to spending decisions made in the last four months of the Labour government. In total, £2bn of schemes were axed, and a further £8.5bn put on hold.
John Cridland, the deputy director-general of the CBI, told a meeting of the UK Contractors Group on Tuesday that Osborne had achieved "two of the objectives we see as most important", as he had "restored credibility in public finances" and had laid the ground for a long-term economic plan.
However, he added that the CBI would lobby for capital spending to be restored to the trend rate of 2.25% of GDP as soon as possible.
Pain and relief

Brian Green breaks down the Budget
There will have been a great deal of relief when the chancellor said that capital spending would not be reduced further in his Budget.
In cash terms it is actually a shade smaller, say, £1-2bn a year less. And there is a question of where this capital spending will go, that is to say, whether construction will get a smaller (or possibly larger) share of the capital budget pie.
My gut feeling is that the industry should prepare for smaller spending. But we should start to get a better clue when the Treasury releases more detailed figures for departmental budgets on 20 October.
But the real pain in the Budget will be felt by smaller local builders or those larger firms that are heavily engaged in refurb work. I can imagine some spat out their builder's tea when the chancellor said he would raise VAT to 20%, however much this possibility had been anticipated.
The fear is that smaller firms operating particularly in the private housing repair and maintenance sector will be hit doubly hard by the tax increase, with less work in their sector being done and more of what is done being undertaken by shadier operators not charging VAT.
Brian Green is a construction economist. Read his blog at www.building.co.uk/brickonomics
How many times key words appeared in the budget documents.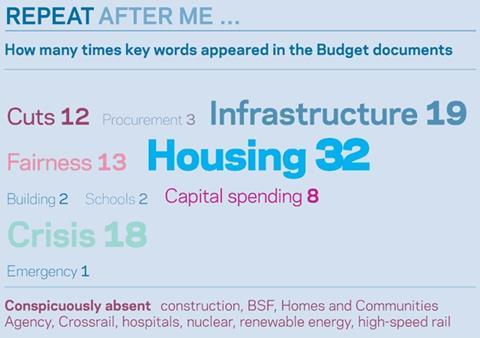 What it all adds up to … the industry reacts
Graham Kean, head of public, EC Harris
Congratulations to Mr Osborne for getting it right on construction. At least we've got a period before [the spending review in] October, which gives us a bit of stability. The Budget signals that there will be opportunity for creative solutions in the market for infrastructure development - but "more with less" will clearly be a mantra. Zero rises in council tax could precipitate cost cutting - or councils could bring forward sites for development. It could go either way.
Michael Ankers, chief executive, Construction Products Association
Our big concern is where Osborne says he is not doing anything more on capital spending - what was already proposed was already enormously harsh. It takes out £50bn of construction expenditure over the next five years. We welcome some of the help for small businesses but we're disappointed that more wasn't done for the green agenda, particularly on reducing carbon emissions from people's homes and on energy efficiency.
Keith Clarke, chief executive, Atkins
It is clear that the government recognises capital spending must be preserved, while rebasing the economy and moving to a low-carbon economy cannot be done overnight. The chancellor should also be congratulated on not rushing into further spending cuts, and it is entirely appropriate that further major announcements are not made until the autumn spending review. The key is the government's ability to implement value-for-money decisions rather than across-the-board cuts.
Tony Pidgley, chairman, Berkeley Group
Increasing VAT is an easy way to raise revenue and so long as it's not imposed on children's clothing or new-build construction, which remains fragile, you can argue it only affects luxury spending. We'll just have to have a good spend this Christmas before it comes in. We may not have much sympathy for banks, but they are trying to get their house in order and the banking levy is likely further to hurt their lending to businesses. It would have been better to have waited until their balance sheets improved.