Construction and business groups broadly supportive as shock result comes in, but warn over potential EU uncertainty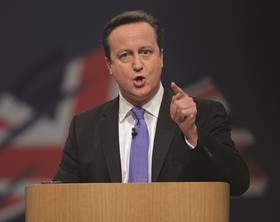 The construction industry is starting to react to the general election result as Britain wakes up to the shock news that the Conservatives are on course for a majority government.
Industry interest groups so far seem broadly pleased with the election outcome, with construction and business groups praising some of the Tories' construction policies, particularly in infrastructure.
Business membership group London First have praised the Conservatives, in particular on Crossrail 2, but said they need to push ahead with other infrastructure improvements and reiterated the need for Britain to remain in the EU.
Baroness Jo Valentine, chief executive of London First, said: "The Conservatives have made positive noises on Crossrail 2, but we also need to push ahead with airport expansion, a vital infrastructure improvement that Britain's businesses desperately need.
"The greatest uncertainty our economy faces is around our place in the EU. Being at the heart of a modernised, more competitive and outward-looking single market is in the national interest."
This was echoed by Melanie Leech, chief executive of the British Property Federation, who warned: "The prospect of an EU referendum will inject uncertainty into the equation, and it is important to have clarity about its parameters and timetable as soon as possible."
She also said the Tories need to have a clear plan to solve the housing crisis: "We would like to see the government prioritise a coherent plan to deliver increased housing supply, to follow through on the commitment to fundamentally review business rates, and take action to put in place the right infrastructure – including real estate – that will allow our country to thrive."
Eddie Tuttle, senior policy and public affairs manager at the Chartered Institute of Building (CIOB) said the CIOB looked forward to working with the new Conservative government.
But he also warned that although Tory pledges to commit to construction apprenticeships and graduates "will undoubtedly help the industry with its response to the current skills shortage", the government will need to change the image of a career in construction in order to attract the best and most skilled workers.