Government announces onshore wind farm subsidies to end a year early in 2016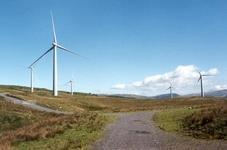 Industry experts have slammed the government's decision to end subsidies for onshore wind farms in April 2016, a year earlier than expected.
The Civil Engineering Contractors' Association (CECA) described the move, announced by climate change secretary Amber Rudd last week, as "extremely bad news".
The Town and Country Planning Association (TCPA) criticised the change for creating "an effective moratorium on the future development of our renewable energy technology – wind power".
Meanwhile, the SNP Scottish Government, said the policy shift could mean Scotland loses out on £3bn of wind farm investment, and jeopardises Scotland's ability to meet its 2020 target of reducing greenhouse gas emissions by 42% on 1990 levels.
Energy suppliers had previously been expecting subsidies to end in 2017, prior to Rudd's announcement last week.
There will be a grace period for projects which already have planning permission, the Department for Energy and Climate Change (DECC) has said.
Funding for the subsidies comes from the Renewables Obligation (RO), which is funded by levies added to household energy bills. The government will close the RO for onshore wind farms on 1 April next year.
It is estimated that around 3,000 wind turbines are currently awaiting planning permission, plans for many of which could be jeopardised by the DECC's announcement.
The early end to the subsidies was a Conservative manifesto promise ahead of the general election.
In her announcement, Rudd said: "We are driving forward our commitment to end new onshore wind subsidies and give local communities the final say over any new windfarms.
"Onshore wind is an important part of our energy mix and we now have enough subsidised projects in the pipeline to meet our renewable energy commitments".