Andy Mitchell led CLC's event on construction day at COP26
The construction industry's approach towards cutting carbon since the start of the pandemic "feels different" to previous efforts, the boss of the Construction Leadership Council (CLC) has said.
Andy Mitchell said the last 18 months had taught the industry "quite how much can change if we really want it to change".
Speaking at the CLC's event at COP26 in Glasgow last week, Mitchell said that firms had made great strides in embedding net zero targets into their working practices since the first covid-19 lockdown.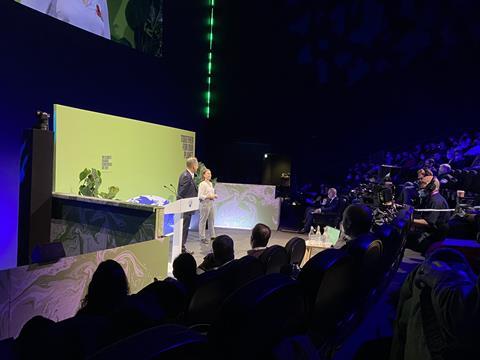 Asked why it had taken the industry so long to change gear on tackling climate change, he said: "I don't think there is a good excuse but it has taken too long.
"I guess change is hard and that is part of human nature. But this looks different, this feels different and this is different."
He added: "There's a lot more to do but together we can do it. You have got to look forward and I think there's a long way to go but I think we can get where we need to go."
Speakers at the event included Travis Perkins chief executive Nick Roberts, Keltbray boss Darren James, Mace chief of staff Hannah Vickers and Atkins UK and Europe chief executive Richard Robinsons.
James used his speech to urge the industry to cut down on its use of traditional concrete, which contributes some 8% of global carbon emissions.
He said firms should be focusing on low-carbon alternatives, several of which are in development.
He said: "If you're an asset owner, insist on it. If you're a client, insist on it. If you're a designer, specify it. If you're a cost consultant, price it into the job. If you're a supplier, make it available and if you're a contractor, use it."
The event was also co-chaired by 26-year-old Cundall sustainability engineer Sarah Linnell, who was given the role through a competition launched by the CLC to find a young professional to add their voice to the debate.
She called on firms to encourage staff at all levels to question decisions on projects to ensure that lower-carbon options are considered.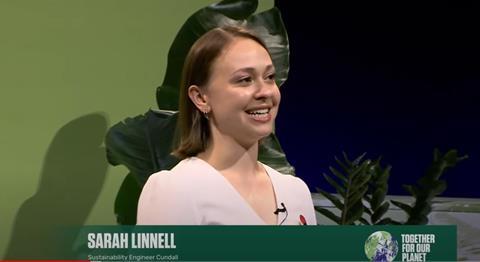 Providing an example, she said that switching the facade of a nine-storey office building from aluminium to a combination of aluminium and timber could have the same environmental impact as all of the event's 350 attendees going vegan for two and a half years.
She said: "It shows how much of an impact decisions we make on construction projects can have in the vast scheme of things and that could have just simply been initiated by asking the right question, by being curious, by allowing people to challenge business as usual."
The series of talks was one of the key events on COP26's day for the built environment, which contributes around 40% of the world's carbon emissions.
The CLC also published the first instance of its performance framework dashboard, a quarterly document which will track the sector's progress on net zero.
Construction minister Lee Rowley said the publication is the "next step of our collective journey to net zero, as a partnership between the government and the construction industry".
Although much of the data is still being collected, it will contain a set of metrics including annual reduction in construction waste, annual increases in the use of non-diesel plant, increases in offsite construction and annual reductions in energy usage in buildings.
Data which has already been collected shows that productivity levels are now higher than they were before the pandemic, which the CLC said will result in less waste and fewer journeys to site.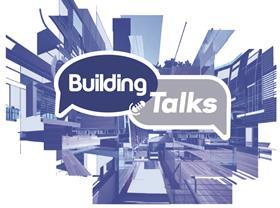 You can hear interviews recorded at COP26 in the
Building Talks Net Zero podcast
out on today. Interviewees include Gregor Craig
,
Skanska UK chief executive, Hannah Vickers, Mace chief of staff, and Sarah Linnell, engineer at Cundall, who chaired the CLC event last week.
>> Click here to find out more and for details of how to subscribe to the series