Lack of statutory independence for National Infrastructure Commission will mean it cannot take long-term decisions, says former Labour leader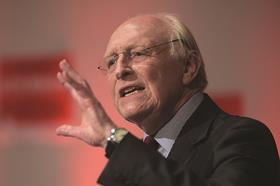 The National Infrastructure Commission has been "wrecked" by the government's refusal to grant it statutory independence, according to former Labour Party leader Lord Neil Kinnock.
Speaking to Building ahead of Labour's annual conference, which kicks off in Liverpool this Sunday, Lord Kinnock said: "The NIC is not statutory […] It's been hollowed out and it was a very good idea.
"It won't realise its potential – let's put it like that. That's been wrecked."
Former chancellor George Osborne openly admitted to stealing Labour's infrastructure policy when he announced the creation of the NIC last year.
The idea of a non-political body to guide the government on major infrastructure projects from roads to smart energy grids was recommended by former Olympic Delivery Authority chairman Sir John Armitt in a review commissioned by Labour in the last parliament.
Osborne even hired former Labour transport secretary, Lord Andrew Adonis, to chair the NIC, which will plan £100bn of spending to 2020 and prioritise the country's infrastructure needs for the next three decades.
Armitt had called for the NIC, which reports to the Treasury, to be granted statutory independence so it could take difficult decisions over essential but controversial long-term projects, free from the short-term concerns of politicians who seek re-election every five years. The NIC is based in the City of London rather than Westminster, as a physical symbol of its independence from government.
However, Theresa May used the fine print of the revised Neighbourhood Planning Bill this month to quietly shelve plans to put the NIC on a statutory footing.
Lord Kinnock added that world-leading infrastructure experts who would have been interested in advising the NIC would now be deterred by its lack of statutory independence.
He said: "I've argued for something like [an NIC] for ages. I suggested some names to Andrew Adonis of people with really extensive world experience and European experience in infrastructure development and financing, so that it could have been a real workhorse - but it's been diminished."
The 74-year-old's interest in construction stems from his childhood. Lord Kinnock's father, Gordon, was employed by a Welsh steel mill after being forced out of coal mining because of an occupational chronic skin disease.
The construction industry has slipped into recession for the first time in four years, with the Office for National Statistics showing a 0.3% drop in output in the first quarter of 2016 followed by a 0.7% decline in the next three months.
Lord Kinnock says these troubles will be exacerbated by the decision to leave the EU.
"Cumulatively, I think Brexit will have a huge impact on construction and infrastructure," he said. "The only thing that will compensate for the impact of Brexit will be serious, rapid stimulus of the construction industry by the government […] even without Brexit, I'd have been making that argument.
"Over the medium term, the effect on construction will be significant, largely because of the rising costs of imports and the absence of any advantage from exports."
Lord Kinnock argued that construction could avoid a drawn-out recession if the government invested heavily as "a matter of massive urgency".
He added: "Stimulus is necessary for every kind of reason, with or without Brexit. I'll give you a figure. Last year, the OECD [the Organisation for Economic Co-operation and Development] produced a report that said an economy like the UK should be spending 5% of GDP on the renewal and modernisation of infrastructure. That was in the year in which we spent 1.5% of GDP, which has come down since 2010 from 3.2%.
"We've been becoming more and more worn out at a time when technology, the emergency of the environment, have both been expanding exponentially - and modern infrastructure development is the only intelligent answer."
Soaring construction inflation has hurt a number of projects, notably Network Rail's track electrification programme. But Lord Kinnock said that the problems lie beyond materials costs.
He added: "It's not so much bricks and mortar costs - it's all the things that go with it, that go inside the bricks and mortar: technology, furnishings, finishing, all the plastics, all the refined steels, all that stuff. There's no control over the price of that and no compensatory export market."