Analysis also reveals regional divide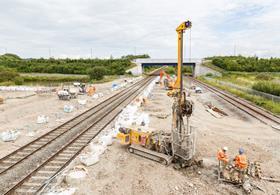 Construction output on infrastructure projects in the UK has increased by just £6.4bn – or £70 per person – between 1997 and 2017.
New research by public sector procurement specialist Scape Group suggests construction supply chains have failed to see a pronounced uptick in activity, despite record investment in infrastructure.
Since 1997 Scotland has seen the highest rate of construction output on infrastructure projects, followed by London in second place and Wales in third.
In the past three years, infrastructure output per person in the North East and North West of England were £1156 and £901 respectively. This compares to £864 and £799 in London and the South East.
While London experienced a spike in infrastructure output from 2010, following large investments in Crossrail and the Olympic Games, its output has since fallen back to pre-2010 levels.
The West Midlands have had the lowest infrastructure output since 2010, with a rate of just £447 per person over the last three years.