Scheme still needs approval from Grant Shapps
A trio of European contractors have been picked to build the controversial tunnel near Stonehenge.
National Highways announced the joint venture MORE – comprised of Spanish firm FCC, Italy's WeBuild and BeMo Tunnelling from Austria – as its preferred bidder for the £1.25bn scheme.
The international consortium beat competition from two other shortlisted joint ventures – HDJV, comprising Hochtief Infrastructure GmbH and Dragados SA, and MJV, which was composed of Bouygues Travaux Publics SAS and J Murphy & Sons.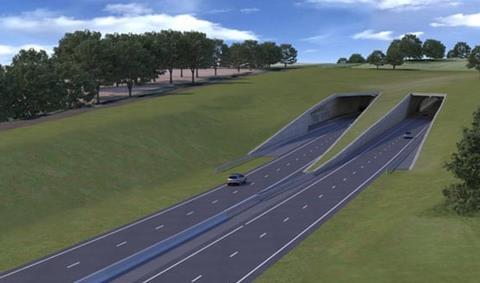 Final planning permission for the upgrade to the A303 Amesbury to Berwick Down is yet to be given. The decision to grant a development consent order was quashed last year and the application is now in the hands of Grant Shapps, secretary of state for Transport.
The project, which would see the construction of a two-mile tunnel near the Wiltshire monument, aims to reduce congestion on the A303, but campaigners for the world heritage site say it would be detrimentally affected.
Shapps must re-determine his decision on the scheme, after his original decision was ruled unlawful by a High Court Judge. The transport secretary must prove that alternative schemes were seriously considered.
National Highways emphasised that the announcement of a preferred bidder did not pre-empt any decision,
The announcement of the preferred bidder follows a two-and-a-half-year procurement process.
MORE JV will be supported by a design partnership composed of Atkins, Jacobs and the Spanish company Sener.
The main works contract will cover the construction of the proposed tunnel's civil, structural, mechanical, electrical and technology components, including the tunnel boring machine, along with the approach roadworks and structures and the environmental components of the five-year construction phase.
They will be making best use of UK skills by using a range of local, regional and national suppliers and contractors to help them deliver the scheme, and will be supported with a design partnership made up of Atkins, Jacobs and the Spanish company, Sener.
Contracts for archaeology and preliminary work were awarded to Wessex Archaeology and Octavius Infrastructure in 2020.
A MORE JV spokesperson said the project was a "clear example of the development of sustainable, innovative infrastructures that not only provide traffic solutions but also improve people's quality of life".