Wider concern about outsourcing companies see firm's shares tank 20%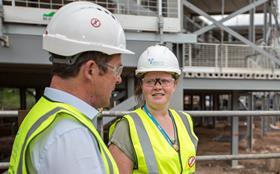 Shares in Interserve tumbled on Thursday, just 24 hours after outsourcing giant Capita's issued a profit warning that saw more than 40% wiped off its share price.
Interserve slid almost 20% yesterday, before recovering slightly this morning, while shares in Mitie and Serco lost 6.9% and 3.4% respectively.
The slump in Interserve's share price comes after an October profit warning that sent it falling by nearly 30%.
Cenkos analyst Kevin Cammack said there were two reasons for the fall in interserve's share price.
He said: "The first is that on the back of Capita, which is in itself on the back of Carillion, nerves are completely frayed surrounding the services and construction area. It's widely known they are in breach of their covenants and the banks have given them until March to come up with something. I think the realisation is setting in it may be more difficult to under the surface, it's a case of guilt by association.
"Another factor, though it is difficult to gauge the degree of impact it may have had, is that I believe there has been some more short selling of the stock.The short position in Interserve rose to between 5% and 6% last week and there were rumours in the market yesterday that there had been more short selling.
"People don't short sell 25,000 shares they do it with hundreds of thousands so it can have quite an overweighted impact on the share price."
Interserve was first caught up in the collapse of Carillion mid-January thanks to reports that linked the business with a Cabinet Office financial health check.
The news caused shares to temporarily fall by 15% at one but they recovered.
Cabinet Office minister Oliver Dowden told MPs on Thursday that Capita was "in a very different situation" to Carillion.
He said government officials had met with Capita's bosses following Wednesday's profit warning.
The firm, which has issued a number of profit warnings in the past year, slashed its projected 2018 profits, which are now predicted to be between £270m and £300m, in contrast to the £406m previously predicted by City analysts. It also unveiled its plan to raise £700m by issuing new shares.
Interserve has not yet said when it will publish its 2017 results, although in the last two years they have been published towards the end of this month.