Disposal part of the firm's decision to concentrate on core markets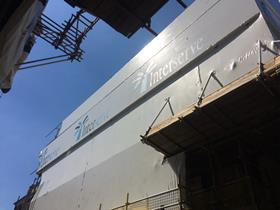 Interserve has sold its scaffolding arm for £3.6m as it winds up activity in industrial contracting.
The contractor provided scaffolding services to housebuilders and other contractors, as well as a scaffolding, insulation and painting (SIP) services package to large industrial sites.
In addition to the up-front cash, Interserve will pick up an extra £1m from sale of the business to Cheshire firm Enigma Industrial Services, subject to financing targets being met in 2018/19.
According to Companies House, Interserve Industrial Services changed its name to Enigma yesterday and in its last set of accounts Interserve Industrial Services posted a turnover of £77m, down from £117.6m, in the year to December 2017. It made a £5m pre-tax loss compared to a near £3m profit in 2016.
The firm's former directors including finance director Chris Ling, head of business development Philip Clark and HR director John Lambert will all remain at Interserve's support services business where the industrial services arm sat.
The renamed busines will continue to be led by managing director Scott Hardie who was appointed to the role in March this year.
In April, Interserve's chief executive, Debbie White, said the contractor would weed out unprofitable areas of the company after it suffered a £244m loss in 2017.
She said today's sale was part of the firm's "strategy to focus on core customer segments".