Suppliers due to be paid under new arrangement, with lenders writing off moree than £800m of debt
Interserve has formally applied to enter administration, with a new company owned by its lenders set to take over the business in the coming hours.
At a general meeting this morning (pictured), shareholders voted against the management's rescue deal by 60:40 – prompting lenders, including RBS, HSBC and BNP Paribas, to send the company under.
The firm has said its subsidiaries will remain solvent and service will continue as normal for clients and suppliers – meaning outstanding debts and invoices will be paid.
Following a hearing with a judge at 4pm today, a new, private firm is set to take over Interserve's assets.
Lenders will write off more than £800m of debt, as well as provide an additional £110m of cash to support Interserve's day-to-day dealings.
But shareholders will be completely wiped out by the plan.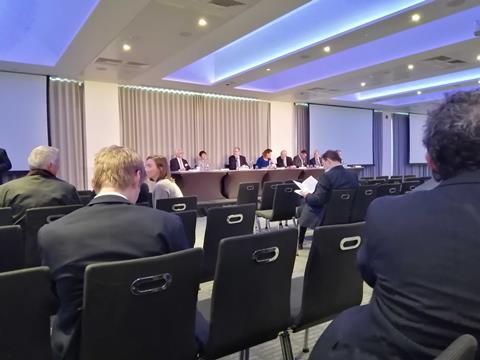 Sources close to Interserve says its board members will oversee its transition and follow its asset to the new company – but it is not yet known whether lenders will reshuffle the board.
A Cabinet Office spokesperson said the government was not worried about how the latest Interserve news would affect the provision of public services.
He said: "This announcement will not affect jobs or the provision of public services delivered by Interserve. We are in close contact with the company and we are confident a positive way forward will be found."
Public sector contracts account for 70% of Interserve's turnover which last year slipped 11% to £2.9bn.
Rudi Klein, the chief executive of specialists' group, the SEC, said the government had not learnt lessons from Carillion's collapse last January.
He added: "At present the outcome of any pre-pack administration insofar as Interserve's supply chain is concerned remains unclear. But, yet again, the financial models adopted by these large outsourcers pose an ever-present and potentially very damaging risk to their supply chains. Following Carillion's collapse, it was generally assumed that there would be a radical re-appraisal of the public sector's approach to construction/infrastructure procurement. This hasn't happened."
Klein said government should be pushing for project accounts and paying subcontractors direct. And he added that big contracts should be broken down into smaller lots to encourgae SME involvement in the procurement process.