Boss Adrian Ringrose says company has learned lessons as it closes division following £72m writedown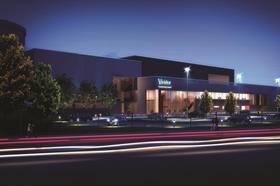 Interserve is learning the lessons from its troubled energy-from-waste projects division, which is being closed after racking up £70m-plus losses, the firm's chief executive Adrian Ringrose has told Building.
The problems in the energy-from- waste business took the firm to a £33.8m pre-tax loss for the first six months of 2016. Ringrose said: "Whatever doesn't kill you makes you stronger - and it won't kill us."
Investors breathed a sigh of relief at the half-year results, posted this month, despite the overall loss and a £72m writedown on energy-from- waste contracts, because the writedown was no worse than thefirm indicated in a £70m profit warning in May.
Interserve unexpectedly increased its dividend to 8.1p per share, up from 7.9p, to be paid in October, and posted a marginal increase in revenue, to £1.85bn from £1.8bn, and an unchanged work pipeline of £7.6bn.
The firm's share price jumped 18% to £3.73 on the day of the half-year results announcement (10 August) and was trading higher still at more than £4 on Monday before Building went to press.
Interserve's £70m profit warning in May blamed a single energy-from- waste job - its delayed Glasgow facility (visualisation pictured) for client Viridor - but this month's results announcement spread the blame across all six of its contracts worth £430m in the sector, prompting its decision to wind down the division.
Ringrose said: "In May we were reacting to a fast-moving deteriorating picture on one project [Glasgow]. We now have three months' more experience.
"I'm confident we have thoroughly reviewed things and beginning to draw a line under that and move on.
"There is a lot of hard work ahead and this is not definitive news as the contracts will take 12-18 months to go through completely. But we've made some good progress."
Ringrose said the firm had learned lessons from the loss-making division: "We need to go through the basic steps, certainly, in the first instance and really understand all the complexities."
Ringrose added: "This is a solid set of results and there are a lot of good things happening, including strong trading and cash generation and a better order book than the start of the year."