Mark Whiteling joined in October 2017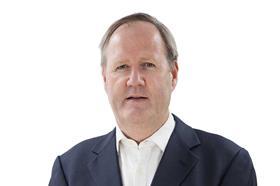 Interserve's chief financial officer has become the latest director to leave following months of turmoil which climaxed with the contractor entering administration in March.
Mark Whiteling (pictured) leaves after just 18 months at the firm, after joining within weeks of chief executive Debbie White in autumn 2017.
Whiteling, who was paid £736,000 by Interserve last year, presided over a pre-tax loss of £244m in 2017 and £111m in 2018, with the firm ultimately subsumed by lenders after a rescue deal he negotiated with White was rejected by shareholders.
The New Zealander is the latest boardroom casualty, with main board director Dougie Sutherland leaving in February while executive board members Yvonne Thomas and Robin O'Kelly left before Christmas.
Whiteling and Sutherland both faced removal from Interserve's board, after the group's former largest shareholder Coltrane Asset Managers tabled a motion to get rid of them.
But the vote was cancelled by administrator EY after Interserve Plc went into administration last month, transferring its liabilities to lender-owned Interserve Group.
In April 2018, Whiteling told analysts he was a "faded shell of a person" compared to six months previously – when he had yet to join Interserve.