Firm racks up £111m pre-tax loss as full extent of eye-watering costs on restructuring plan revealed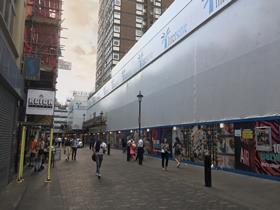 Interserve has publicly admitted that its ongoing financial mess is now affecting its ability to win work with the firm counting the cost of another year of thumping losses.
The firm stayed firmly in the red for the third successive year racking up an £111m pre-tax loss in the 12 months to December 2018.
In a statement accompanying the results, the firm said working capital in its UK construction business was draining away which it said was partly down to cutting down the amount of work it took on but "more so as the group's financial position started to impact its ability to successfully win contracts".
Group revenue was close to 11% down to £2.9bn which the firm said was because of £216m fall in UK construction work which has "been driven by lower activity levels as we have struggled to win new work and EfW [energy-from-waste] projects completing". Revenue at its UK construction business slumped 22% to £757m.
Although the firm narrowed losses from last year's £244m figure, the firm still blew eye-watering amounts on restructuring costs and getting its finances in order.
It spent £43m on advisor fees associated with its deleveraging plan, which was updated this morning, another £20m on restructuring costs, close to £25m more on getting out of the London construction market, on top of the £10m it spent in 2017, and a further £12.6m on its energy-from-waste projects where overall losses in this sector are now close to £230m.
And it said that it expected to spend a further £33m on its deleveraging plan, taking the amount it has shelled out on advisors in connection with its strategic review and refinancing of the business to £90m so far – having already spent £14m on advisor fees in 2017.
The combined cost of selling its site services business last autumn and shutting its power business, which it closed last February, was put at another £6.7m.
It said that it expects to be finally out of its disastrous EfW contracts in the first half of this year but admitted: "Significant uncertainty remains on the timing of those remaining projects."
The firm said the bulk of the £12.6m it lost on EfW in 2018 was because of its scheme at Derby which Building yesterday revealed had been inundated with complaints last year over issues to do with smell and noise.
But it said that it picked up a £35m EfW windfall thanks to an insurance payment it received during the year.
Its normally reliable RMD equipment services business saw revenue slip 15% to £196m with operating profit down 27% to just under £40m.
Chief executive Debbie White said: "Interserve remains focused on positioning the Group for long-term, sustainable success. This means continuing the operational progress we are making to put legacy issues behind us.
"However, the Group remains over-leveraged and the successful implementation of the Deleveraging Plan is critical to our future, as it will ensure that Interserve has a competitive financial structure for its future growth. I would urge our shareholders to vote in favour of the Deleveraging Plan."
Net debt increased to £631m which it put down to the ongoing costs of completing its EfW schemes as well as problems getting paid on certain jobs in the Middle East.