Embattled firm now set to unveil 2017 results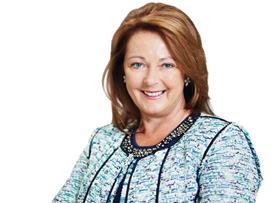 Interserve has agreed a near £300m rescue deal with its banks.
The deal will give it £197m in extra cash along with bonding facilities of up to £95m.
As part of the proposed new deal, Interserve's bank's have options to buy new shares, presently worth 88p, for 10p per share, which if exercised, would give them a 20% stake in the group.
The firm, which is expected to announce its 2017 results next week, said it now has cash borrowing facilities of £834m through to 2021.
It added that it will be paying £56m in interest this year of which £34m will be cash interest.
The firm has previously said that debt in the first half of this year is expected to rise to £600m.
Chief executive Debbie White (pictured), who joined the business last September, hailed the deal as a "significant milestone" and said it would "underpin the group's future". She added: "We are encouraged by the support from our lenders in respect of these new facilities, which will allow the new management team to execute our business plan, focused on delivering a great service for customers, driving growth and restoring value."
Cenkos analyst Kevin Cammack said the "refinancing package is probably better than we could have hoped for" but warned: "Interserve will remain very heavily indebted (peak £600m in H1-19) and almost certainly too close to covenant levels to be comfortable. Radical action is still needed and if this entails business disposals then the underlying earnings presumably fall. Next week's management plan will be critical and for now let's just be content that Interserve is not the next Carillion."
Last October White began a company-wide review of the business called Fit for Growth. Last month the firm said it was shutting its power business as part of the restructuring.