Companies House report shows contractor's assets were barely a quarter of what was owed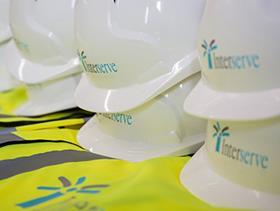 Accountants, local authorities and a media monitoring company are among the dozens of unsecured creditors owed money when Interserve sank into administration in March.
According to documents lodged with Companies House, the listed contractor owed unsecured creditors £50.5m and secured creditors £55.4m – with the firm's total assets expected to raise just £27.6m for preferential creditors.
Interserve's biggest debts were to accountants and computer firms, with Interserve's auditor Grant Thornton owed £676,000, Microsoft owed £616,000 and PwC and Specialist Computer Centre owed £493,000 and £468,000 respectively.
Wokingham council in Berkshire was owed £102,000, while telecoms giant BT was out of pocket to the tune of £281,000 and recruitment agency Reed was owed £91,000.
And a London media monitoring company called Precise was left out of pocket by just over £4,000.
Other creditors include taxi company Addison Lee, down by £3,000, the Institute of Student Employers, out of pocket by £1,000, and Nasdaq Nordic – the company which runs Scandinavian stock exchanges, which is owed more than £12,000.
Interserve went into administration in the middle of March after rebel shareholders voted against the board's rescue deal, which would have seen most of the firm's equity consumed by lenders.
Instead a lender-owned firm bought the business assets from in-administration Interserve Plc, with a new company, Interserve Limited, emerging.
Meanwhile, Pennon, the water utility which owns Viridor, the waste management firm which kicked Interserve off the Glasgow energy-from-waste scheme in November 2016, is understood to preparing an arbitration against the contractor for the £72m it says Interserve owes it for botched work.
An adjudication was made in Interserve's favour in April but Building understands this only related to certain aspects of the contract between it and Viridor.
Viridor is understood to be preparing a full arbitration against Interserve to get back the £72m with this starting soon.
Pennon declined to comment but the firm, which in its annual results last month booked a £23m provision on the £72m because, it said, of a "lack of certainty around the future of Interserve's business", has always maintained the £72m figure is the amount it has spent finishing the Glasgow scheme and repairing work botched by Interserve.
Viridor eventually brought in Doosan Babcock to complete the scheme.