Profit and revenue up in UK construction business as firm eyes upturn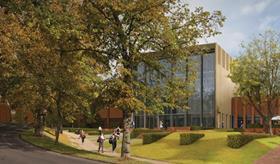 Profit in Interserve's construction arm fell 6% over the first half of the year, despite a strong performance from the business in the UK.
In its half-year results, announced to the City this morning, Interserve said its construction division made an operating profit of £12.3m in the six months to 30 June 2014, down from £13.1m over the same period of 2013.
The construction division also posted a 10% jump in revenue to £532m, up from £484m over the same period last year.
However, UK construction faired well, reporting an 8% rise in operating profit to £8m, up from £7.4m over the same period last year.
It also posted a 12% rise in revenue to £433m in the first half of 2014, up from £388m in the first half of 2013.
In its accounts the firm said: "Demand is beginning to improve, although margins remain tight as supply chain pressures feed through."
Interserve's international construction division reported a 3% rise in revenue to £99m in the first half of 2014, but its operating profit fell 25% to £4.3m.
It said that there were "signs of recovery" in the Middle East construction market but added "this activity has yet to generate profit growth due, in part, to timing and to continued competitive trading conditions".
However, Interserve group reported an operating profit, before exceptional items, of £53.7m, up from £39.5m.
Once the exceptional items, which included £10.2m of amortisation of acquired intangibles and £11.7m of acquisition costs – mainly related to the purchase of facilities management firm Initial Facilities in February 2014 - were included the results showed that group's operating profit actually fell to £31.8m, down from £33.4m.
Group revenue rose 33% to £1.57bn, up from £1.24bn, but the firm posted a fall in pre-tax profit, including the exceptional items, to £28.3m, down from £30.7m
It said its highlights for the first six months of 2014 included winning a £150m PF2 contract to build a batch of schools through the Priority Schools Building Programme; winning a £55m sports centre for the University of Birmingham; and the completion of the Endeavour Centre, part of HMS Drake's Naval Service Recovery Centre in Portsmouth.