Project is for Shanghai-based developer PGC Capital led by chief executive Denise Li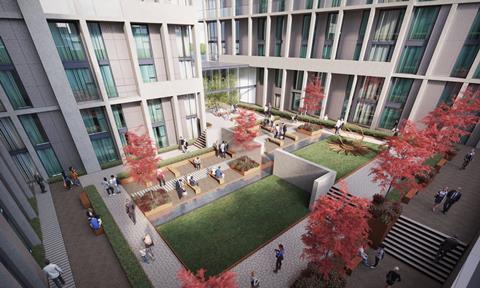 ISG has beaten Interserve to build a new residential scheme in the centre of Birmingham for the fledgling UK property development arm of Chinese investment bank PGC Capital.
Located close to Hammerson's Bullring shopping centre, the scheme, known as Lunar Rise, is the second development in the UK by the Shanghai-based firm.
PGC Capital has already delivered a 77 luxury apartment residential scheme in the city called Jewel Court.
Designed by Corstorphine + Wright, Lunar Rise will house 517 apartments spread across a 25-storey tower and a pair of 10-storey blocks as well as ground floor commercial space.
Speaking to Building, PGC Capital UK president Francis Cole said he expected the scheme, valued at approximately £135m, to break ground at the beginning of June.
The wider project team includes Gleeds as the QS and project manager, Liverpool-based Alan Johnston Partners as the structural engineer and Manchester-based Futureserv as the M&E engineer.
PGC Capital is also "tentatively" looking at developing up to three more residential-led schemes in Birmingham, Cole said.
In addition, plans are in process for two major schemes in Manchester city centre, one of which will help the developer branch out into more mixed-use projects.
The developer, which has been mainly focused on regional schemes, is also now turning its sights on the capital.
"I've got four or five schemes we're looking at [in London] and we're trying to bring one forward and we're in very close working relationship with Barking & Dagenham Council," Cole added.
The developer usually adopts a two-stage bidding process on its schemes with only two contractors tendering for each project. Cole said he expects this procurement tactic to continue as it ensures the contractors put in their best teams forward and achieves a "robust price".
"We're quite diligent [when it comes to contractors]. I've operated in the UK for 26 years now and have seen the peaks and troughs and I've seen where there's been over commitment by contractors, so we're hugely cautious about who we allow to tender," Cole said.
He added he "definitely" expected PGC Capital to work with Chinese main contractors on UK schemes in the future.
Cole insisted the developer is also here for the long-term, despite the possible impact of Brexit.
"As a business we are economically minded that where there's volatility there's opportunity. That's absolutely reinforced in the UK whereby we have a very stable legal system and a stable real estate market when you look at it over a 20-year period.
"We've got huge confidence in doing business in the UK […] There will no doubt be some sort of contraction and you can see a bit of a slowdown in construction at the moment where people are hedging their bets [..] but no one absolutely knows and if you've got sites bought at the right price and the appraisals correct that banks can support you can deliver you can continue in your business with a level of surety.
"We want to continue to strengthen our relationships in the UK where we work closely with various bodies which are involved in strategic regeneration in the UK, such as Be First in Barking & Dagenham. We are also speaking with the chairman of the Peabody Trust who is also the chairman of the Northern Powerhouse, Lord Kerslake."