Contractor says it will get back onsite when designs for the 95-hectare scheme are "finalised"
ISG has paused work on a car battery gigafactory in Northumberland while designs for the scheme are "finalised".
The factory, which is being built for manufacturer Britishvolt near Cambois, is a flagship project for Boris Johnson's levelling up policy but has been reported to have been put on "life support" to save costs.
Work on the 95-ha site has been drastically limited until February while the next round of funding and key power supply infrastructure is secured, documents leaked to the Guardian have suggested.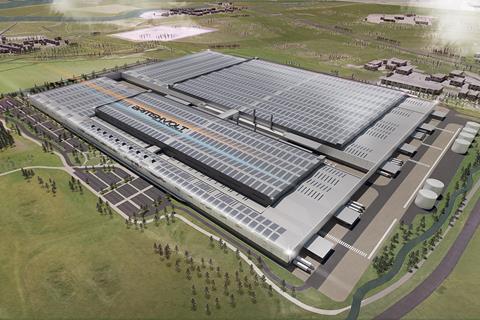 ISG said it is now "pausing works on-site while the design is finalised and remain a committed and passionate partner in this transformative scheme for the people of Northumberland."
The firm added that it had completed scheduled phases of work and both itself and its supply chain had been paid in line with the development plan to date.
"We continue to collaborate closely with our client to facilitate a dynamic project that enables flexibility to the site's core design in alignment with evolving advancements in battery technology," an ISG spokesperson said.
The leaked documents also discuss "mitigations…to deal with immature design and design release delays" ahead of an investor contract due next month, according to the Guardian.
The documents were dated two days before business secretary Kwasi Kwarteng announced funding of £100m for the scheme.
The factory, which will be the fourth biggest building in the UK and the sixteenth biggest in the world when complete and will employ 3,000 people, is seen as vital to maintaining the UK car manufacturing industry ahead of the government ban on the sale of petrol and diesel cars in 2030.
Construction started last summer with the first batteries due to be produced next year ahead of the completion of further stages by 2027.
The gigaplant has been designed by leading Italian design experts Pininfarina, with Ridge and Partners project managing the architecture.
Britishvolt has been contacted for comment.