ISG will fit out five floors of British Land skyscraper for Brit Insurance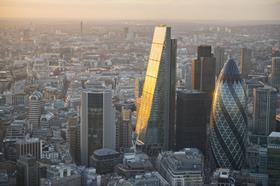 ISG has won a £10m fit out contract from Brit Insurance for the insurer's new UK headquarters at London's Cheesegrater tower.
The firm has been commissioned to deliver a 66,000 sq ft fit-out at the Leadenhall Building.
The fit-out will mainly be open plan on levels 16 to 18 with meeting rooms, break-out areas and a feature staircase between three floors.
Formal client meeting space and a reception will be created on levels 39 and 40.
Matt Blowers, managing director of ISG's UK Fit Out business, said: "With over 90 per cent of The Leadenhall Building now let, our expertise delivering live environment, multi-level projects in high-profile office developments will prove essential to a successful outcome.
"Our appointment at an early stage in the scheme, through a two-stage tender process, has proved highly beneficial in navigating the project's complex logistical challenges - enabling the development of innovative solutions to deliver this key win for ISG."