Scheme will include two tunnels underneath the River Thames
Jacobs has been appointed integration partner on Highways England's Lower Thames Crossing project in a deal worth £162.5m.
The US consultant will carry out programme management, stakeholder management and risk management on the scheme.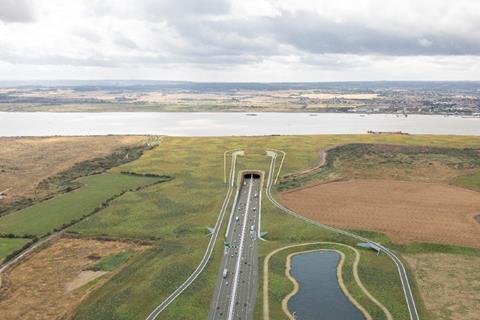 The £6.8bn Essex to Kent link is set to include more than 14 miles of new road, including two new 2.6 mile-long tunnels.
Jacobs will now prepare the scheme to move into the delivery phase, so that main works contractors will be able to start.
The firm will also support the delivery of the construction, integrated system commissioning and handover to operations.
When it was advertised last summer, the job was given a £242m price tag.
The entire project was originally due to complete by 2028 but last autumn Highways England said it was rejigging its plans. An application, which is required to be approved before work can start, is yet to be resubmitted.
The project (pictured) will feature two bored tunnels beneath the River Thames with interconnecting link roads to the M25, A13, and A2. It will cross the river east of Tilbury in Essex and Gravesend in Kent, creating a link between the A2 and the M25.
The crossing will feature three lanes in each direction and, at 16m in diameter, will be one of the largest bored tunnels in the world.