Mace is development manager on 1,500 home scheme at site owned by media tycoon Richard Desmond
Housing secretary Robert Jenrick has used his ministerial powers to approve the supersized version of PLP's Westferry Printworks scheme – against the advice of a planning inspector.
Client Westferry Developments, which has appointed Mace as development manager, already had consent for a 722-home version of the scheme, to be delivered in four towers of up to 30 storeys on the 5ha Isle of Dogs site after then-Mayor of London Boris Johnson used his powers to approve the scheme in 2016.
But new plans for the site, owned by former Daily Express and Daily Star proprietor Richard Desmond, were submitted in 2018 that added an extra tower and sought to deliver 1,540 new homes as well as 1,730sq m of restaurants and bars and 1,048sq m of flexible commercial space.
The scheme was toned down to deliver 1,524 new homes in towers of between 19 and 44 storeys and Westferry appealed against Tower Hamlets council for its failure to determine the application within government-prescribed guidelines last year. Tower Hamlets subsequently indicated that it would have refused the scheme anyway ahead of a planning inquiry last year.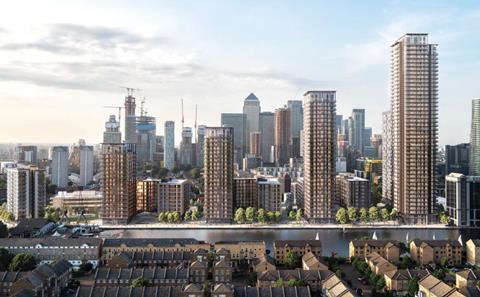 Just-published Ministry of Housing, Communities and Local Government papers reveal that planning inspector David Prentis recommended the scheme be refused because of its impact on nearby heritage sites, conflict with local planning policies and unacceptable level of affordable housing.
The heritage sites in question are The Old Royal Naval College at Greenwich, the Maritime Greenwich World Heritage Site, and Tower Bridge.
But Jenrick has overruled the decision, arguing that even though the scheme might reasonably provide more affordable housing, there was "no evidence" that another scheme might come forward that did so – and that the supersized scheme provided 142 more affordable units and 600 more market units than the earlier scheme.
A letter written on the secretary of state's behalf said he accepted that the scheme caused harm to the heritage assets identified by Prentis, but that the minister felt that the benefits of the proposals outweighed that harm.
Elected borough mayor John Biggs said he was "extremely disappointed" with the secretary of state's decision.
"I'd strongly objected to the revised plans due to their increased height and density as well as the lack of affordable housing," he said.
Tower Hamlets has six weeks to challenge Jenrick's decision at the High Court.