JLL director takes over reins from former Lend Lease Europe boss Dan Labbad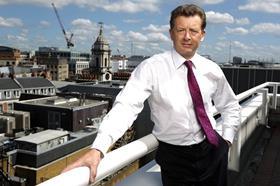 A director of consultant Jones Lang LaSalle has been appointed as the chair of the UK Green Building Council.
Andrew Gould, international director at JLL, has succeeded former Lend Lease Europe boss Dan Labbad in the role.
Gould said the UK should be at the forefront of tackling emissions from buildings with strong leadership from the private sector. He added: "We need to see greater consistency on policy from Government to support this."
"As well as being the right thing to do there are significant business benefits in a green economy, with greener buildings being more resilient; a better long term investment; and better for occupiers and users. But there is a long way to go."
Gould said he wanted to bring sustainability into the mainstream of businesses thinking and engage the finance sector in driving the green agenda.
Paul King, chief executive of the UK Green Building Council, added: "Andrew is a very well-respected and influential figure in the property sector. His appointment demonstrates the seriousness with which the industry is now getting to grips with sustainability and shows a real commitment to the cause."