Investment drops a third in the first half of the year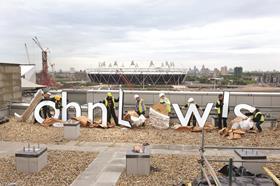 The retail group John Lewis Partnership decreased its capital spending by over a third in the first half of the year after opening fewer stores over the period.
The firm – which owns the John Lewis and Waitrose brands – spent £162.4m on capital expenditure during the first six months of 2012, down £91.4m on the same period in 2011.
The reduction came despite a strong set of financial results for the retailer over the period, with profit up 64% to £109.9m and revenues up 8.6% to £3.93bn.
The company said in a statement the capital spend reduction "largely reflects lower capital expenditure in Waitrose, as in 2011 there were more branch openings [… which were] weighted towards the first half."
The retailer opened ten Waitrose branches and two John Lewis branches in the first half of this year.
It has already opened two new Waitrose stores in the second half and plans to open a further seven during the period.
John Lewis Partnership's head of construction, engineering and environment, Tony Jacob, told Building in June that the firm is planning to cut 30% from spending on consultants' fees by 2014.