Update: Labour's shadow Olympics minister urges government to act over marketing rules and praises Building's 2012 campaign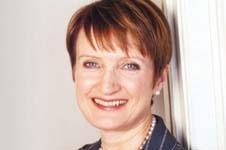 Shadow Olympics minister Tessa Jowell has called on the government to redouble its efforts to find a "compromise" over the restrictive 2012 marketing rules.
Speaking at the launch of the UK Contractors Group Creating Britain's Future campaign today, Jowell told construction industry leaders of her concern over the ongoing damage caused by the no marketing rights protocol, enforced by the London Organising Committee of the Olympic and Paralympic Games (LOCOG).
The MP – the former culture secretary and a key part of London's successful Olympic bid in 2005 – has previously highlighted in the House of Commons Building's 2012 campaign over the marketing protocol, which has gagged firms as they seek to capitalise on their Olympic achievements.
Today, Jowell praised Building's campaign in front of the audience of industry leaders at the UKCG event.
She said: "The excellent campaign that Building magazine has been running is something that we need to take very seriously.
"We don't want to see a perversely stringent interpretation of what is called the No Marketing Rights Protocol that shuts British firms out from being able to tell the story of what they did to be part of this great success and in doing so fly the flag for the British construction industry, not just in the UK but beyond as well.
"This issue has been identified in Sir John Armitt's authoritative report."
Last week, prime minister David Cameron said the government would act to ease the impact of the protocol, after the publication of Olympic Delivery Authority chairman Sir John Armitt's legacy report to government calling for "urgent action" to be taken to relax the marketing restrictions.
However, the government said in its response that a "workable solution" would not be found before the end of the year.
Referring to Building's revelation that the ODA is preventing architects from entering their Olympic buildings for awards - and following the ironic 'protest award' given to architect Wilkinson Eyre, designer of the Basketball Arena, after it was prevented from entering the temporary venue for awards - Jowell added: "We also want to make sure that architects…are recognised for their extraordinary achievements and that they don't get caught by a marketing protocol that shuts them out.
"I hope that we can focus on how those glitches can be unpicked so that together we can sing in chorus the achievement of which you have all contributed in such great part as leaders of the UK construction industry."
Jowell also called on the government to speed up investment in infrastructure projects and promote investment in the industry as an important means of stimulating jobs and growth, as part ofg UKCG's Creating Britina's Future campaign, which is backed by Building magazine.