The consultant is also predicting a 4% fall in London building tender prices this year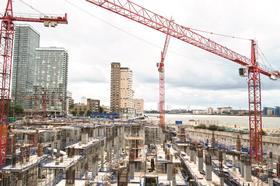 Arcadis has reported that it saw a 30% rise in enquiries from Chinese investors looking to access the UK's commercial property market in the last quarter of 2016.
In its latest market report, the consultant also said it expects construction prices for the building sector to fall by 4% in London this year and 3% across the regions, while infrastructure tender prices are anticipated to rise by 3%.
Chinese interest in the UK is being driven by government capital controls and a weak pound, which has seen Chinese investors potentially benefit from double-digit discounts compared to pre-Brexit levels, Arcadis said.
This interest is also moving away from central London and into residential and mixed use developments in other UK cities, the firm added.
Mark Cleverly, head of commercial development at Arcadis, said: "Since the referendum vote on Brexit, we have seen more Chinese development companies looking to acquire UK development sites or existing assets.
"They currently enjoy a discount against sterling, so they are actively seeking new global investment opportunities to counter a downturn in their own domestic markets.
"Our UK regional cities face a shortage of housing and strong population growth; combine this with lower land values, low interest rates and more affordable house prices, and it is easy to see why the UK regions offer attractive growth prospects for these well capitalised developers."
Meanwhile, despite this interest from overseas investors, the consultant believes there will be a two-year long slowdown in the construction market with growth in tender prices not returning till 2019.
Arcadis added that it expects the impact of Brexit and the depreciation of sterling on materials costs for construction projects to be less significant than many believe.
Will Waller, market intelligence lead at Arcadis, said: "The impact on construction of the weak pound, though significant, may be overstated for many projects. Excluding specialist and identifiable subcontract packages, materials cost increases due to sterling may only amount to just over 1% at the midpoint of a two year programme.
"In spite of this, we expect building construction prices to fall in 2017. This is down to likely economic slowdown, delayed decision making and resulting demand falls in key commercial sectors."
Arcadis tender price predictions