Jury hears unclear processes and poor English ability contributed to tragedy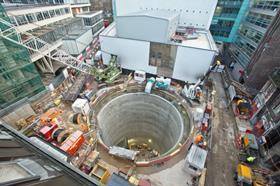 A Crossrail worker who was crushed to death by wet concrete died in a situation that was contributed to by unclear processes, an inquest has recorded.
After a six-day hearing at St Pancras Coroner's Court in central London, jurors determined that Slovakian national Rene Tkacik's March 2014 death was an accident.

Their narrative verdict found that "unclear processes" and an "unclear" definition of the exclusion zone where wet concrete was being poured were contributory factors in the 44-year old's death.
The verdict also found Tkacik's death had other accidental contributory factors, including him not being able to understand all briefings due to his limited English skills.

Tkacik was working for the Bam Ferrovial Kier joint venture on the Fisher Street tunnel near Holborn when the accident happened.

Steve Murphy, general secretary of union UCATT, said Tkacik's death was "clearly preventable" and that lessons must be learned from the tragedy.

"No issues must be covered up to prevent similar deaths occurring in the future," he said.

"If the industry wants to learn from this tragedy and improve safety then it is essential there is full transparency.

"We urgently need an honest debate about how the entire industry, including the union movement, can increase the safety of workers."
Crossrail said everyone continuing to work on the project continued to be affected by the tragedy.

A spokesperson said: "Our thoughts and sympathies are with Rene Tkacik's family, friends and colleagues.
"Safety has always been, and continues to be, the number one value for Crossrail and is critical to the delivery of the project.
"Crossrail has a good safety record and sets the most stringent contractor safety requirements in the industry. There is nothing so important on Crossrail that it cannot be done safely."
Coroner Mary Hassell did not issue a Prevention of Future Death Report following the inquest.