Specialist contractor says work will take off in US next year and 2019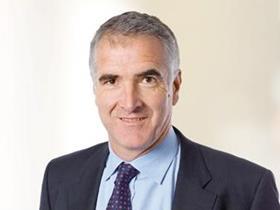 Ground engineering contractor Keller is targeting expansion in the US to capitalise on president Donald Trump's planned $1tn infrastructure programme.
Alain Michaelis, chief executive of the London stock exchange-listed firm – which posted mixed results for 2016 today – told Building the president's spending spree presented the firm's £950m-turnover North American business with "opportunity for growth".
He declined to rule out taking a role on construction of Trump's controversial planned border wall between the US and Mexico – but said the project was unlikely to fit the firm's criteria for taking on jobs, explaining: "If it's just a wall it'll be simple foundation work […] We tend to take on jobs with technical complexity."
Michaelis (pictured), the former Rolls Royce group operations director who took over from previous boss Justin Atkinson last May, said the firm forecast its North American business would be able to take advantage of Trump's building push from 2018-19 when it expects projects to come on to site.
"We are three times bigger in the US than the market players in that space, so we're well placed," he added.
In its results, Keller also revealed it has reclaimed £14.3m in insurance payouts and rental income on the £54m it set aside in exceptional charges against a problem wine warehouse contract.
The firm set aside the charge two years ago against the project in Avonmouth near Bristol, which was completed in 2008 but became the subject of disputes over allegations of defective work causing cracks to the floor slab.
These disputes were settled two years ago with Keller eventually buying the warehouse for £62m last May but is yet to find a buyer.
Michaelis said: "We have long term stable tenants [of the warehouse] and we will sell it in due course. It could be a month, it could be a year."
He said the firm had learned lessons from the warehouse problems around "skills, risk management and needing quality management teams".
The £14.3m exceptional gain on the warehouse project helped the firm post a 31% jump in pre-tax profit to £73.9m for 2016, up from £56.3m the previous year.
But when exceptional items were stripped out across both years, Keller posted a drop in pre-tax profit to £85.1m, down from £95.7m the year before, due to a slowdown in its Asia Pacific markets.
Revenue in the year to December 2016 increased 14% to £1.78bn, up from £1.56bn.
Keller reported healthy trading in the UK, where it is also targeting an increase in infrastructure work but Michaelis warned there was "some weakness" currently.
And on the May government's planned infrastructure push, he said: "There's a lag, we are not seeing it on the ground yet, it's quiet."