Legal dispute over alleged project failings prompts exceptional charge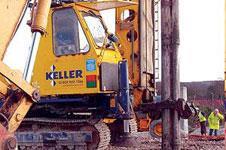 Keller has announced a £30m "exceptional charge" arising from an ongoing legal dispute, which will impact on its half-year results to 30 June 2014.
In a statement to the City this afternoon the groundworks giant said the dispute related to a warehouse project undertaken by its UK subsidiary, Keller Limited, and completed in 2008.
Keller said: "The dispute relates to purported defects in a floor slab at a warehouse for which Keller Limited undertook the design and construction of the piling.
"These purported defects are alleged by other parties to be due, in part at least, to deficiencies in the provision of Keller's services."
Keller said the claims were denied and being "vigorously defended", but it had decided to recognise a charge now "given the uncertainties inherent in any litigation".
Keller said it will update the market on further developments in the dispute.
As previously revealed by Building, Keller is embroiled in a multi-million legal wrangle over faults at a £40m wine warehouse near Bristol, where it is facing a claim that piling errors caused cracks in the warehouse floor. Keller denies it is responsible for the faults.
It is understood that it is this warehouse project that prompted today's announcement.
Keller declined to comment on the identity of the warehouse project.
The firm will announce its half-year results on Monday (4 August).