Groundworks giant posts profit rise and record revenue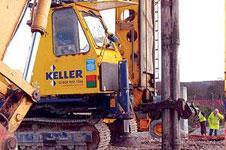 Groundworks giant Keller has posted a 70% leap in pre-tax profit and record revenue for the year to 31 December 2013.
Keller's pre-tax profit grew to £74.1m, up from £43.5m the previous year, while revenue rose 9% to £1.4bn, up from £1.3bn.
The firm completed three acquisitions in the period, two in Canada and one in South Africa, which the firm said would strengthen its position in North America and Sub-Saharan Africa.
Looking ahead to this year, Keller said: "We expect to see a continuation of the gradual improvement in certain of our markets, notably in the US.
"However, most of our European markets are expected to remain subdued and we anticipate that the current uncertain market conditions in Australia will continue for some time."
Keller said it would focus on margin improvement and integration of its acquisitions this year.
Justin Atkinson, Keller chief executive said: "Overall, we expect 2014 to be another year of progress.
"Looking further ahead, we remain optimistic about our long-term prospects and we are confident that the Group is well positioned to take full advantage of future opportunities."