Firm also reveals that one of its staff was killed in Ukraine war last month
The impact of a fraud at its Australia business, restructuring costs and a legal bill on a historic contract dispute helped drag pre-tax down 17% at Keller last year.
The ground engineer had flagged in January that it had been the victim of a "sophisticated" fraud at its Austral division in which operating profit was exaggerated by around £18m over several years and saw two senior figures fired as a result.
Austral is a civil, mining and marine contractor that Keller said contributes around 3% of the firm's revenue.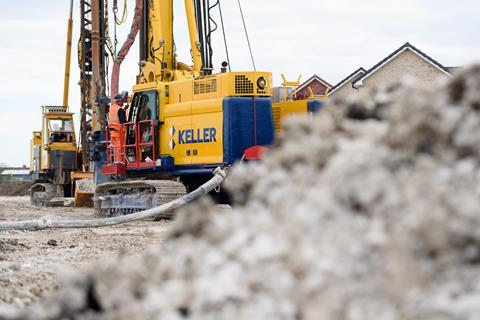 In its 2022 results announced this morning, the firm said the external investigation it had brought in to deal with the issue "has now confirmed that there has been no cash leakage. This was an isolated and contained incident."
But Keller said the impact of the fraud on historic operating profit was £18.3m for which it had taken a £7.7m goodwill impairment.
It added: "We have relocated one of the Group's experienced Managing Directors into the business while we review and develop a longer-term succession plan. We will take the lessons learned from this incident and embed any identified improvements into our management and financial control processes."
Chief executive Michael Speakman said the pair, who were based in Melbourne, made no financial gain from the fraud, which centred around inflating turnover at the business. "It's a disappointing and sorry turn of events," he added.
Keller staff member killed on frontline in Ukraine
Keller revealed that one of its 20 Ukrainian staff, who had been working for its North-East Europe Business Unit, was last month killed fighting in the Ukraine war following Russia's invasion of the country last February.
38-year-old Oleg Mishchynski, who was previously a supervisor for the firm, was killed on Valentine's Day on the frontline in the eastern part of the country.
Chief executive Michael Speakman said around half of its Ukrainian staff are still in the country with some of them fighting there including a branch manager who is now a senior member of the army.
It said it did not have any projects in Ukraine but added that money raised through a charitable foundation its Poland business has set up "is given directly to our Ukrainian employees and their families who have been affected by the conflict so they can buy what they need most".
Elsewhere, Keller said £5.3m of restructuring costs – including a £3.4m charge for North America – and legal fees of £3.5m relating to a dispute on a warehouse scheme in Avonmouth, near Bristol, also blunted its bottom line.
The warehouse was completed in 2008 but was hit by allegations that defective piles had caused the floor slab to crack. Keller bought the warehouse seven years ago but no longer owns it although Speakman said it carries out periodic maintenance following remedial work it carried out.
Income from its biggest division, North America, was up 29% to £1.9bn while revenue from Europe, which includes its UK business, which is working on HS2, was up 19% to £649m.
Keller's group revenue last year was up one third to £2.9bn with pre-tax profit own 17% to £56m. Underlying operating profit was up 23% to £109m.