Firm adds UK work will be boosted by HS2 next year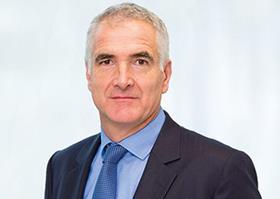 Income at ground engineering specialist Keller hit a record £2bn last year despite a mixed year in its biggest market, North America.
Revenue was up 16% to £2.07bn with £969m of this coming from North America – which comprises the US and Canada – where it is hoping to wrap up the acquisition of Moretrench, a geotechnical contracting firm based in New Jersey and which operates mainly along the east coast of the US, next month.
Turnover in North America was up 2% but underlying operating profit was down 14% to £78.7m with the firm being hit for £3m in the second half of last year because of the impact of Hurricanes Harvey and Irma.
It said an improved performance from its Hayward Baker geotechnical business, its largest in North America, was offset by lower profits at other businesses including piling company HJ Foundation.
The firm's chief executive Alain Michaelis (pictured) said US infrastructure, including dams, bridges and railways, was in need of a huge overhaul and added work has to start soon. "The physics is going to force it. Around 40% of bridges [in the US] are more than 50 years old. Something is going to have to give."
Michaelis also warned that it had experienced a slowdown in orders in the UK, which accounts for around 4% of business, in recent months."Brexit is not helping," he admitted.
But he added that a number of major upcoming infrastructure projects, including HS2, would mean demand for its geotechnical services picks up next year and in 2020.
Elsewhere in Europe, the firm saw revenue grow thanks to increasing workloads in German, Poland and Austria.
Revenue throughout Europe, the Middle East and Asia was up 26% to £737m with underlying operating profit up 74% to £53.3m.
Keller said it was rejigging its management team at its Asia Pacific business which narrowed operating losses from £18m to £16.5m. The firm, which has been hit by problems with ground conditions on two schemes in Australia, said former Aecom veteran Peter Wyton, who spent 25 years at the business, is taking over from Mark Kliner as president of this part of the business at the beginning of April.
The firm also said it has drawn a line under a problem warehouse job in Avonmouth near Bristol.
The warehouse was completed in 2008 but became the subject of disputes over allegations of defective work causing cracks to the floor slab.
It was bought by Keller in 2016 and sold last year for an £8m profit. It added that it has recovered £35.3m of an original £54m provision and Michaelis said "no significant further recoveries are expected". The firm has a contract to carry out maintenance work at the site until the early 2030s.
A £21m credit from this dispute last year helped the firm bring in £11.9m of non-underlying items taking 2017 pre-tax profit up to £110.6m from £73.9m in 2016.
Keller carried out 6,300 jobs last year with the firm's average project size coming in at £300,000.