Specialist demolition contractor sounded out on removing seven-storey core of stalled project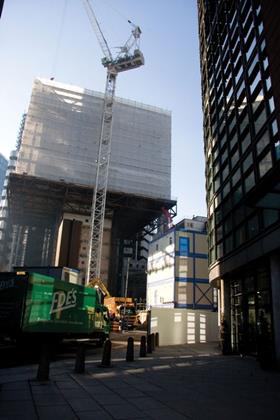 Demolition contractor Keltbray has been sounded out on the potential demolition of London's stalled Pinnacle "stump", the firm's owner Brendan Kerr has revealed.
Demolishing the seven storeys of concrete core on site - abandoned since 2012, earning the development the "stump" nickname - would enable a substantial redesign of the project.
The Saudi Arabian owners of the Pinnacle are currently marketing the skyscraper to potential investors via property agent CBRE to try to revive the scheme, which has been lying dormant since the beginning of 2012 after finance dried up.
Interested parties have been asked to work with a revised version of the existing design drawn up by Kohn Pedersen Fox, but Building understands rival teams are considering more significant design changes, which could necessitate demolishing existing work on site.
Kerr said: "There's an amount that has been built that will probably have to be reconfigured and which could involve some demolition of what was recently built, and we have been giving some advice to potential developers and cost consultants. We have been giving advice, but I couldn't say who we're talking to."
CBRE confirmed it was "in discussion with interested parties", adding that "there has been very strong interest globally", but declined to confirm the number or identities of the parties.
This comes after reports this week that CBRE was in discussions with around 12 interested parties, with strong interest from America, China, and Singapore.
Building revealed last month that two high profile development bids are being lined up by Lipton Rogers and US developer Hines.
To real the full interview click here.