Specialist confirms number of jobs will be lost under initiative
Keltbray has said it will be next spring by the time it completes a rejig of the 3,000-strong business which is expected to see a number of staff lose their jobs.
The specialist contractor, which will see income top the £500m mark for the first when it publishes its 2019 results next year, has announced a review of the business to return flagging margins to an acceptable level.
Group commercial director Vince Corrigan told Building: "We look for operating margins of 5%-6%. That's appropriate for what we do, the risk we take and the self-delivery model we have. Margins of 2% are not appropriate."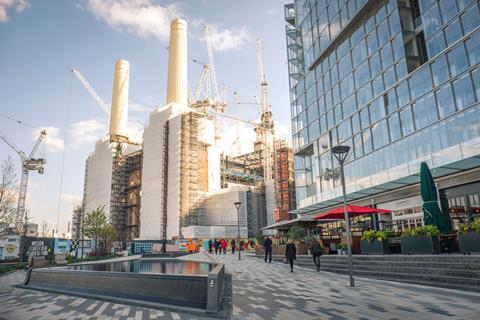 Despite topping the £500m turnover figure, Corrigan said this year's results, for the 12 months to October, would see margins fall again.
Last year, the firm posted a £399m turnover, down 4% on the previous year, but pre-tax profit slumped nearly a quarter to £17.8m.
Corrigan added the review, launched last month, would improve efficiency at the business so it could "capitalise when things pick up".
The firm, which is working on Skanska's 20 Ropemaker scheme in the City and the Battersea power station redevelopment (pictured), has been hit by a slowdown in commercial work in its traditional London heartland as well as Network Rail putting the brakes on spending.
Corrigan said the firm was looking to trim the amount of business and support units which combined number around 25. These include its rail piling and demolition arms as well its training and occupational health departments.
The rail piling business made around 30 people redundant last month because, Corrigan said, "there is no work at the moment".
The main Keltbray business employs around 2,200 people with a further 800 on the books of its labour agency arm Konstructive Recruitment.
Speaking about upcoming job losses, Corrigan said: "We're not talking hundreds more like multiples of 10. The rationalisation will take us three or four months to work through."
Keltbray has a number of depots and offices dotted around the country including its structures business in Bathgate, Scotland, after it picked up collapsed concrete firm Dunne Group in 2016, a rail centre in Crewe and a demolition and civils plant yard in Egham, Surrey.
Corrigan said it had no plans to shut any of its sites although it has mothballed a rail plant depot in Treforest, south Wales.