Specialist contractor says profit stayed flat last year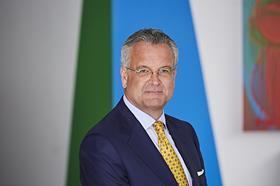 Uncertainty over the outcome of Brexit in its core London and South East heartland failed to put the brakes on growth at Keltbray last year with the firm busting the £400m turnover barrier for the first time.
The firm, which helped tear down the PwC buildings that made way for the Shard at London Bridge, has long since branched out of its demolition roots and last month announced a joint venture with Canadian firm Aecon to target overhead line rail work in the country.
Keltbray, which recently lost out on a £95m deal to carry out the enabling works contract as part of the £1bn redevelopment of Stamford Bridge for Premier League team Chelsea, said income in the year to October 2017 was up 13% to £417.5m.
Pre-tax profit at the 1,500-strong business remained flat at £23.3m but operating margins headed south – from 6.6% to 5.6% with chief executive Brendan Kerr blaming tough trading conditions and an increase in overheads.
Kerr (pictured) added: "We are pleased with these results…against a backdrop of an increasingly uncertain economic climate, particularly in London and the South East, where lack of clarity on Brexit remains a dampener on growth."
He added that demand for demolition and civil engineering work would slow this year but said this would be partially offset by increased orders for its structures business. "Keltbray Structures ended the year with a pipeline of more than £120m worth of work," Kerr said.
Kerr said the firm remained on the lookout for new opportunities and added that it will "continue to diversify into specialist services that are aligned to our existing portfolio".
The biggest part of its business is the firm's Specialist Contracting Services operation, which includes the demolition, piling and structures arms, which saw turnover increase 15% to £311m.
In February, the firm had been due to start on a £60m deal to carry out concrete frame and basement work at the next phase of the Chelsea Barracks residential scheme but was stood down when the main contractor on the job, Multiplex, was pulled from the work.
Developer Qatari Diar has promised this fourth phase of work will be up and running by the end of the year.