African architect is latest to be invited to construct a pavilion since programme began in 2000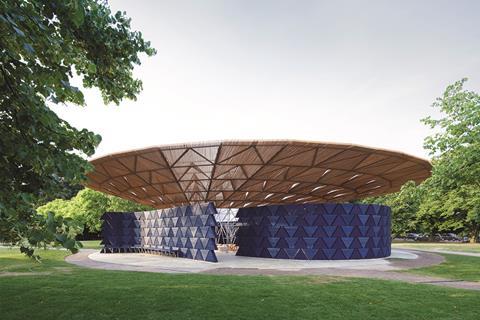 This year's Serpentine Pavilion in London's Kensington Gardens by Berlin-based architect Diébédo Francis Kéré opens today (23 June).
The Kéré Architecture principal, who was born in the west African country of Burkina Faso, becomes the latest architect invited to construct a pavilion since the programme began in 2000.
Francis Kéré said his design was inspired by the tree that serves as the central meeting point in his hometown of Gando, where the architect built a primary school that won the 2004 Aga Khan award for architecture. His design features an expansive wooden roof supported by a central steel framework with wood walls, and aims to offer shade on sunny days as well as protection from the rain.
The Serpentine Gallery said the structure's oculus would funnel rainwater from the roof to create a "spectacular" waterfall effect, before it was collected to irrigate the surrounding park. Aecom was engineer on the scheme.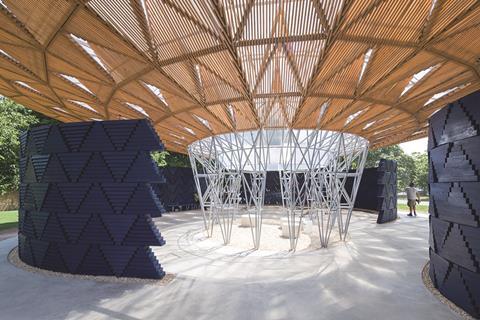 Kéré's selection for the 2017 pavilion follows Bjarke Ingels Group's "unzipped wall" structure, which was visited by 250,000 people in 2016. Other previous pavilion architects include Zaha Hadid, Oscar Niemeyer, Frank Gehry, and Herzog & de Meuron with Ai Weiwei.
The architect was chosen for the pavilion by a panel including Serpentine artistic director Hans-Ulrich Orbist, chief executive Yana Peel, along with architects Richard Rogers and David Adjaye.
This year's pavilion commission is the first not to be overseen by programme founder Julia Peyton-Jones, who stepped down as gallery director in 2016.
It will be open to the public until 8 October.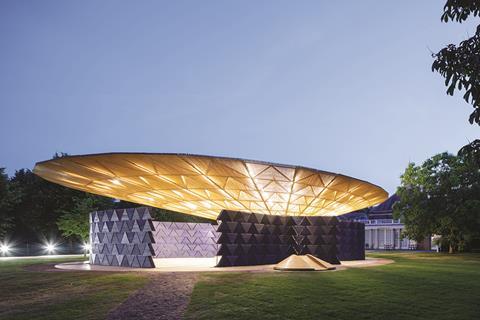 To read Ike Ijeh's comment piece on the Serpentine Pavilion click here.