Communities secretary Greg Clark confirms compulsory purchase order for Whitgift shopping centre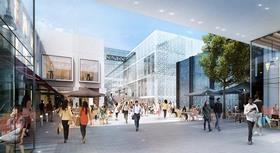 A major revamp of Croydon town centre has taken a step closer after communities secretary Greg Clark confirmed a compulsory purchase order for the borough's Whitgift Shopping Centre.
The decision paves the way for a £1bn regeneration in Croydon, with developers Westfield and Hammerson proposing to jointly redevelop the Whitgift and Centrale shopping centres with a 200,000m2 scheme which will include retail and leisure space and up to 600 new homes.
Hammerson said in February that the compulsory purchase order (CPO) land-assembly inquiry had begun. Following an inquiry, Clark has now confirmed a CPO for the 7-hectare site.
The proposals for the new shopping centres include providing 136,500sqm of retail space, 16,400sqm for leisure facilities, 1,100sqm for community facilities and 1,900sqm of office space.
Planning minister Brandon Lewis said: "This decision allows for an ambitious £1 billion redevelopment of the town centre that will transform it into a vibrant hub that people want to visit.
"It has the potential to bring massive benefits to local people and businesses and will ensure Croydon continues its transformation into a first-class destination."
In its results for 2014, Hammerson said the design and planning process for the scheme had taken "significant longer than expected", with the commencement of construction work on-site pushed back from this year to 2016 "assuming a successful CPO". The scheme is expected to be completed by 2020.