Two months after scheme asked for another bailout, London mayor says talks with Treasury are 'ongoing'
London mayor Sadiq Khan has revealed there is still no plan for where the funding needed to complete Crossrail is going to come from.
The railway's chief executive Mark Wild confirmed the scheme would need an extra £400m to £650m last November, despite having already been given a £2.8bn bailout the year before.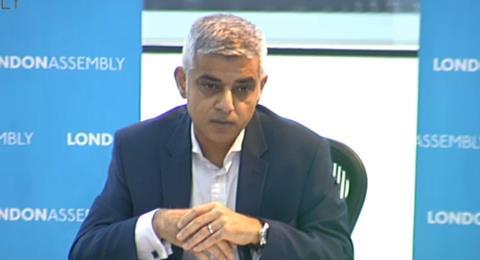 Now Khan (pictured) has admitted Transport for London (TfL) and the Department for Transport (DfT), who are the clients on the project, have yet to reach an agreement on where it will come from.
Khan said: "TfL's chief financial officer [Simon Kilonback] is in contact with relevant officials at the DfT and Treasury and it's a conversation that is ongoing."
Back in November, Kilonback admitted the pre-election period had stalled talks with ministers about how the extra cash "ought to be allocated and found".
The government has previously said Crossrail won't be getting any more money from the UK taxpayer and that London itself will have to find the missing millions.
Last September, the DfT's top civil servant, Bernadette Kelly, said if the job is not finished within its £17.8bn budget then the capital will have to pick up the tab.
Khan's revelation came at a meeting of the London Assembly's budget and performance committee yesterday (Tuesday) and follows the admission by TfL commissioner Mike Brown that his organisation is not planning for Crossrail to open before the last quarter of 2021 – up to three years later than was originally planned.
The committee's deputy chair Len Duvall complained: "There's been promise after promise on when Crossrail will be opened and on what budget."
Crossrail is due to confirm when it expects to open by the end of the month.