Sadiq Khan voted to become Labour's candidate for the Mayor of London election in 2016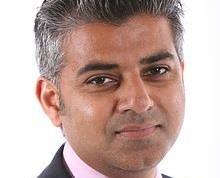 Labour's newly-elected candidate to become Mayor of London Sadiq Khan has said tackling the capital's housing crisis will be his number one priority if he wins the race to become mayor next year.
The Tooting MP and former shadow justice secretary won 58.9% of the votes in the fifth round of voting, beating the favourite Tessa Jowell into second place.
Speaking to the BBC's World at One after his candidacy was announced, Khan said: "The number one issue by a mile for Londoners is the housing crisis and I'm commited to ensuring we have genuinely affordable homes to rent and buy in London during my time as mayor."
Khan also cited making public transport more affordable and rolling out a living wage as other key priorities.
The south London native's win leads into a weekend which could see staunch leftist Jeremy Corbyn win the battle for the overall Labour leadership.
KHAN'S BUILDING POLICIES:
Housing
Housing in London, has throughout the contest, been a hotly debated topic and Khan has repeadedly beat the drum for affordable housing promising to introduce a 50% affordable housing target for new developments.
Bring forward land owned by public bodies such as TFL for development.
Set up a New Homes Team at City Hall to tackle the capital's chronic housing shortage. This team will also act as a developer driving the building of new homes for social rent, London Living Rent and first time buyers and will help Councils develop their own new homes teams and bring forward land and investment for building.
Spend the Mayor of London's affordable homes fund, and by developing 'London Home Bonds' and pension fund investments.
Use mayoral planning powers to stop 'buy-to-leave' and put first-time buyers and local tenants first.
Support development in 'home zones' and work with boroughs to identify all available brownfield land in public and private ownership that is suitable for development.
Renters
Create London Living Rent, with rent linked to a third of average incomes. Tenants would then be encouraged to save towards deposits for purchasing their own home.
Set up a London-wide not-for-profit letting agency building on the letting agencies set up by Hackney and Islington.
Naming and shaming of bad landlords via a regularly published list of the best and worst landlords in the capital. Sadiq will also work withboroughs to set up landlord licensing schemes and make it easier for them to do so.
Fight for the power to limit rent rises in the private sector.
Skills
Work with businesses, boroughs, and learning institutions to ensure Londoners are properly trained and equipped with the skills they need to get on.
Use procurement through Lead the New Homes Team and TfL to help create apprenticeships.
Demand further devolution of powers and funding for the creation of apprenticeship and Further Education.
Other
Push for more London commuter rail services to be put under the control of TFL.
Consult on expanding the proposed Ultra Low Emissions Zone (ULEZ), to all of Zones 1 and 2 and out along primary commuter routes.
Pedestrianise Oxford Street, adding a new tree line from Hyde Park to Centre Point.
Support for cyclists with more cycle storage in commercial and residential area.
Campaign against a third runway at Heathrow in favour of a second runway at Gatwick.
Recognise and reward firms who pay the London living wage and only award contracts to those that do.