Haydn Mursell goes with immediate effect, firm says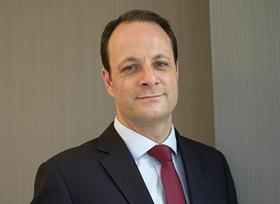 Kier's chief executive Haydn Mursell is leaving the contractor with immediate effect.
In a shock announcement to the London Stock Exchange, Kier confirmed it had asked chairman Philip Cox to act as executive chairman, working with the finance director Bev Dew and chief operating officer Claudio Veritiero, to oversee the group's operations while the search to replace Mursell begins.
The firm last month said it had been handed £250m by investors in a rights issue which the firm said would be used to sort out its balance sheet.
Cox said: "The board believes that, following the completion of the recent rights issue, now is the right time for a new leader to take Kier forward to the next stage of its development.
"The board would like to thank Haydn for his contribution during eight years on the board, firstly as finance director and then as chief executive. On behalf of the board, I would like to wish him every success in the future."
The company, which fell out of the FTSE250 index last month, said the search for a successor to Mursell, who will come from outside the company, will start immediately.
Cenkos analyst Kevin Cammack said Mursell had "fallen on his sword", saying shareholders pushed to depose him.
He said: "If that's the price to be paid for getting the rights [issue] kicking and screaming over the line then frankly shareholders have every justification for the stabbing because it was Haydn that took a traditionally very conservative Kier into the land of debt through a phase of aggressive acquisition and expansion.
"The fear is that a de-geared Kier under Haydn would quickly move back onto the offensive. That is not, rightly, what investors want."
Mursell started as chief executive at Kier in July 2014. He joined in 2010 from Balfour Beatty where he was deputy group finance director for two years. He also spent seven years as the UK chief finance officer at Lendlease.
At 9 30am, Kier's shares were up 530p on the news, marginally up on last night's closing price of 524p.
In a trading update, which was also published this morning, two days earlier than expected, Kier said it was trading in line with expectations.
The company, which last month picked up a high-profile deal to build a new headquarters building for US tech giant Facebook, reported average month-end net debt of £370m, down from £410m in the second half of the previous year, which the contractor said reflected the impact of the recent rights issue.
It said its cost-cutting initiative called Future Proofing Kier, which Mursell brought in last year, had exceeded savings in the first half of its financial year by £10m.
Kier will announce its interim results for the six months to the end of December 2018 on 21 March.