Five Wells prison in Northamptonshire built almost entirely from standardised components
Kier has completed a £250m prison in Northamptonshire built almost entirely from standardised components.
Five Wells prison in Wellingborough is the first of four prisons to be built through the government's £1bn prisons programme, which is being project managed by Mace. The programme aims to showcase the latest approaches to modern methods of construction.
Deputy prime minister Dominic Raab and prisons minister Victoria Atkins officially opened the facility last week alongside senior staff from Kier, the Ministry of Justice and security firm G4S.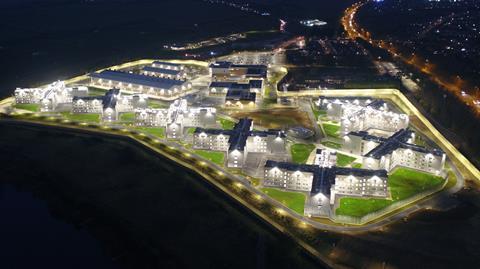 The 60,000m2 complex, which has space for nearly 1,700 adult male prisoners, consists of 13 buildings including seven houseblocks, classrooms, workshops, a kitchen, an entry building and a visitors' hall.
More than 15,000 precast panels and over 60,000 sub-components were used in the construction, over 80% of which were standardised and made usable for future projects.
The scheme also made extensive use of offsite manufacture and BIM, which Kier said enabled it to be built 22% more quickly than traditional construction methods and with on-site labour reduced by a third.
The contractor, which is due to announce its iinterim results on Wednesday, added that pre-fabricated mechanical, electrical and plumbing engineering saved some 54,000 working hours on site.
The project has been hailed by the government as a flagship example of its construction playbook, a document published in 2020 which aims to make construction more efficient through supply chain collaboration and use of standardised components.
Kier Construction group managing director Liam Cummins said FIve Wells had "many pioneering aspects as both a facility and construction project".
He added: "Not only does it align with the construction playbook but it pushes the boundaries of digital construction and design for manufacture and assembly."
Kier, ISG, Laing O'Rourke and Wates were appointed to the prisons programme last summer on an alliance contract, meaning that they are collaborating on the designs of the four prisons.
The group said at the time that the approach recognised the benefits of tier one contractors working together to drive innovation, maximise social value outcomes and reduce carbon.