Deal creates combined company with £9.3bn order book and a leading market share in UK highways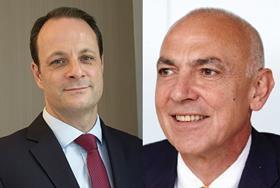 Kier has completed its £265m acquisition of consultant Mouchel.
In a statement issued to investors this morning, Kier said the deal closed yesterday and would "accelerate" its plans to grow in the infrastructure sector, particularly in roads.
The combined company has a £9.3bn order book and a leading market share in the UK highways sector.
Kier chief executive Haydn Mursell (pictured, left) said: "The successful acquisition of Mouchel now positions Kier as a sector leader in the growing UK highways maintenance and management market.
"In particular, the acquisition enables the Group to capitalise on £17 billion of investment in the strategic road network to be delivered through Highways England over the next five years."
Kier completed a £340m rights issue to finance the acquisition earlier this month.
Speaking to Building at the time of the announcement in April, both Mursell, and Mouchel chief executive Grant Rumbles (pictured, right), said the deal broke the mould by combining heavyweight contracting and consulting expertise.
Mursell said he was "very excited about getting consultancy into the Kier fold", while Rumbles said they had struck a "different kind of deal".
Rumbles said: "A lot of merger and acquisition activity has been about adding on more of the same [contracting to contracting, or consulting to consulting].
"The nice thing about this deal is Kier is adding in our asset advice and high level consulting and I think the market has been looking for that."
Kier and Mouchel have said that once their road contracts were pooled together, the combined firm manages around a third of the UK's road network.
Speaking in April, both Mursell and Rumbles insisted there would be "very few" job losses as a result of the deal. Rumbles argued the deal was about "creation of jobs, not job losses", with job losses restricted mainly to duplicated "corporate functions", including "my job, and my CFO".
Rumbles said he would step down when the transaction closed, but would be "available to Haydn and the Kier team" if help was needed after that on strategy.
The deal is the culmination of a remarkable turnaround in Mouchel's fortunes over the past four years.
Mouchel was forced to delist from the London stock exchange, restructure and sell up to its banks in 2012 following a run of bad financial news the previous year, including an £8.5m blackhole uncovered in its accounts, which prompted the-then chief executive Richard Cuthbert to step down and make way for Grant Rumbles in October 2011.
Rumbles has led a transformation in the company's fortunes, with the firm posting £16.5m pre-tax profit on £616.6m revenue in its latest financial results for the year to September 2014.