Work on 18 month scheme to start this autumn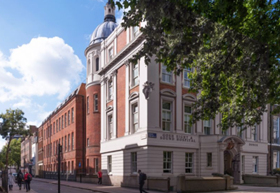 Kier has won a £25m contract to build a Sight and Sound Centre for children with sight and hearing loss at Great Ormond Street Hospital in London.
The medical centre will be the country's first dedicated complex for children with sight and hearing loss, with over 8,000 such patients currently visiting the hospital every year.
The grade II listed building will include soundproofed booths for hearing tests, an eye imaging suit and a dispensing opticians. The project also includes a garden designed to arouse a range of senses and allow children to touch and smell different plants.
The centre has been designed by architect Sonnemann Toon, which has worked on a cancer treatment centre at London's Harley Street, and was an architect on the Midland Metropolitan Hospital scheme which was being built by Carillion before its collapse earlier this year.
Kier will start construction this autumn and finish 18 months later in 2020.
The project comes on top of the £60m Zayed Centre for Research into Rare Disease in Children, which is being built at Great Ormond Street by Skanska and is due for completion by the end of the year.