Infrastructure and construction arms record a profit, but firm lost money on developments and housing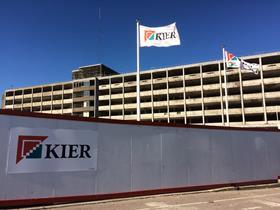 Kier has reported a pre-tax loss of £35.5m for the six months ended 31 December despite a 2% hike in turnover.
The period saw the firm launch an £264m rights issue – which received little support from investors – and was the last overseen by Haydn Mursell, who Kier's board ousted in favour of Andrew Davies.
The firm brought in revenue of £2.2bn from the three strands of its business: £419m from developments and housing, £830m from building and £884m from infrastructure services.
Its infrastructure and building arms made a pre-tax profit of £21m and £9m respectively, but the firm's results were pulled down by an £18m loss in its development arm, as well as a £47m loss through non-underlying items.
These include part of a £26m sum Kier will pay over the next six years on a loss-making waste collection contract it is pulling out of; a £25m hit on Broadmoor hospital job; a net loss in disposing of its Australian highways business; and the ongoing costs of integrating McNicholas, an acquisition it made in July 2017.
The Future Proofing Kier scheme, aimed at simplifying the group and improving cash flow generation, also made a net loss of £10m.
The firm said its underlying pre-tax profit was £39m – with an operating margin of 2.4%, down 0.4% from the same period last year.
Kier did finish December with significantly less net debt than a year earlier, due to the rights issue, but the figure of £180.5m is £50m more than thought before an "accounting error" was discovered last week.