Firm due to unveil interim results next week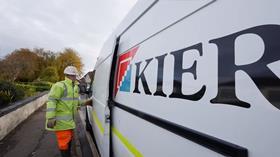 Kier has warned that it is set to take a £25m hit on a hospital scheme in Berkshire and added that it has revised up its estimated net debt level.
In an update ahead of its interim results next Wednesday, the firm, which is looking for a new chief executive after Haydn Mursell left seven weeks ago, said net debt for the six months to the end of December had gone up £50m to £180.5m.
It said this had meant it had recalculated its average month-end net debt during the period to £430m – from a previously stated £370m.
It said the revisions had been made after adjustments relating to the group's hedging activities as well as reclassifying debt associated with certain developments assets held for resale.
And it said that it would be booking a £25m hit in its half year results on its scheme to rebuild the high-security hospital at Broadmoor in Berkshire.
The scheme has seen its opening date moved a number of times with the first phase of the job now set to be handed over later this spring.
In its statement to the Stock Exchange this morning, Kier said it was making the provision in "respect of future recoveries from the client and other third parties".
Cenkos analyst Kevin Cammack said the revisions around its debt centred around accounting issues but he added: "The fact remains it has more debt than it had stated and less profit given the loss provision on Broadmoor is conveniently being taken as an exceptional. How much further can they test investors' confidence?"
Mursell left after more than four years in the post, having joined the firm in 2010 from Balfour Beatty where he was deputy group finance director for two years. He also spent seven years as the UK chief finance officer at Lendlease.
Chairman Philip Cox is acting as executive chairman, working with the finance director Bev Dew and chief operating officer Claudio Veritiero, to oversee the group's operations while the search to replace Mursell continues.