Investors spooked by shock profit warning yesterday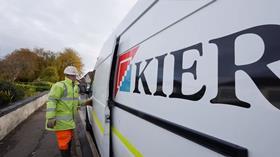 Kier's share price tumbled again on Tuesday, leaving the firm barely worth more than the amount it raised in last year's rights issue.
It follows a bruising start to the week in which the business saw its value plummet by 43% after announcing a £40m writedown.
Shares in the firm reached a rock bottom of 150p this morning, recovering slightly to 156p as of 2.45pm – a figure still lower than its Monday closing price of 162p.
All of the numbers are less than the 184p launch price for Kier stocks when the firm floated on the London Stock Exchange in 1996, and are a mere 16% of the 1,060p the shares traded for in the first week of June 2018.
Kier's market capitalisation now stands at £265.5m, a fraction of the £4.3bn it turned over in 2017/8 and only just above the £264m Kier investors were asked to cough up in rights issue in November as the firm attempted to shore up its balance sheet.
It comes as investor Neil Woodford – Kier's largest shareholder, with a 20% stake in the company – has suspended trading in his fund after several savers dashed for the exit.
Woodford Equity Income has suspended trading to stop investors withdrawing their money. In a statement, the fund said it would "suspend the issue, cancellation, sale, redemption and transfer of shares".
New Kier chief executive Andrew Davies is due to announce the results of a review of the business at the end of next month.